On 28th January 2000, India won the Under 19 Cricket World Cup for the first time. The team had future international players like Yuvraj Singh, Mohammed Kaif and Ajay Ratra but one of the most important members of that team was Anup Dave. The left arm spinner picked up 13 wickets in the tournament with an economy of just 2.9. He later went on to play domestic cricket for Rajasthan and now serves as their selector.
In an exclusive interview, Anup Dave talks about the experience of that World Cup, the challenges of a spin bowler in India. He also goes onto explain his role as a selector and shares his future plans. He also names the toughest batters he has ever bowled to.
Q 1) How did your cricket journey start, what age were you when you started playing and who got you into it?
I was 13 years old when an inter-state cricket tournament was organised in my village in Rajasthan. Our team won in the finals of that tournament, which is when my interest in cricket developed. He also names the toughest batters he has bowled to while playing domestic cricket.
Q 2) It's been over 23 years since you won the Under 19 World Cup. What was that experience like and what's your most memorable moment?
It was a very good experience. Prior to the tournament, I was performing well for Rajasthan for two years and was playing for the central zone so I was prepared to be selected for the Under 19 World Cup. I played every game in that tournament and I took the highest wickets, which led to our team winning the tournament. There can be no greater happiness than leading your country to a World Cup victory and when we returned, we received a lot of respect and recognition. My village felicitated me by arranging an open jeep and taking me around. It was a fantastic experience.
Q 3) After winning the Under 19 World Cup, you played domestic cricket as well, who was the toughest batter to bowl to?
There is a lot of difference between the Under 19 World Cup and Ranji Trophy. Many seniors play in the Ranji Trophy and the level is quite high. Spinners tend to do well in India and bowling to the likes of V.V.S Laxman, Gagan Khoda and Rahul Dravid was a privilege. I realised it's difficult to be a spinner as Indians can play spin well, even a batter who is coming at the 7th or 8th place. Bowling to V.V.S Laxman, Gagan Khoda and Rahul Dravid was tough and I learned a lot.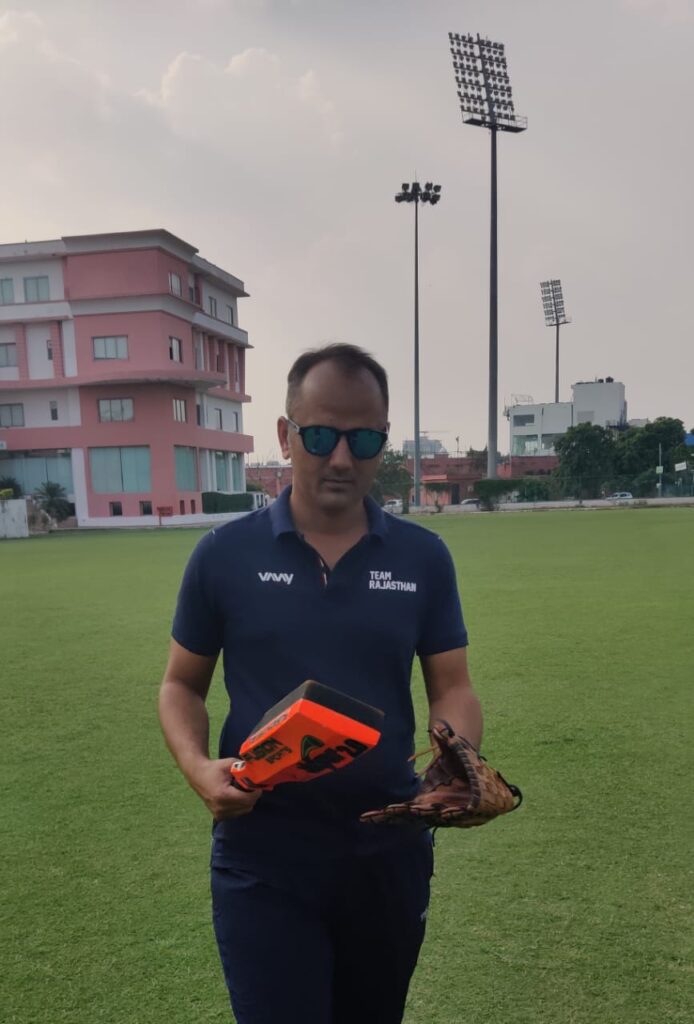 Q 4)You're currently working as the selector for Rajasthan, how important is your job and how does your experience come into play?
My job as a selector is quite important as we are required to make a state team. We as selectors need to scout during district tournaments and set up various camps to identify them. Being a selector for Rajasthan is very difficult because Rajasthan is a huge state and you need to scout a lot of players. My experience comes in handy because I have played for Rajasthan and I have technical knowledge of making a squad of 15 players.
Q 5) Who are some of the young Rajasthan players who have what it takes to become a big name in international cricket?
There are quite a few players who are currently impressing. Mukul Chowdury who is a wicketkeeper batsman is one to look for this season as he has gone on to score more than 700 runs. Sumeet Godhara, opening batsman has been practising at the NCA for a few years. This year a player from Kuwait called Meet Bhavsar, who played his junior cricket for Rajasthan, has the potential to play in the IPL. Salaudeen who is a medium pacer has given IPL trials, will be one to look out for in the future.
Q 6) What are your plans for the future? Do you intend to continue as the selector of Rajasthan?
In the future I want to become a spin coach but as of now I'm happy doing the selectors job as it works with my office timings. Ever since I became the selector of Rajasthan we have been reaching semifinals and finals.
Also read: "Virat Kohli is my idol, he has transformed cricket" – Pondicherry cricketer Sagar Udeshi