Sagar Udeshi has been playing domestic cricket for Pondicherry since 2018. In that period the left arm spinner has taken 168 first class wickets. In his last Ranji trophy game against Kerala he picked up 5 wickets for 52 runs which earned him a player of the match award. He is currently the 4th highest wicket taker in the Ranji trophy season with 42 wickets in 7 games at an average of 17.09 and an economy of 2.45.
In an exclusive interview, Sagar talks about his cricketing journey, idolizing Sachin Tendulkar and the impact of Virat Kohli on him. He also sheds light on his game plan for the match against Kerala. Sagar further talks about the challenges of switching between formats and names the toughest batter to bowl to. He also praises Pondicherry cricket and reveals his future goals and ambitions.
Q 1) How did your cricketing Journey start and at what age did you decide to play it professionally ?
Every cricketer has a different journey and I started very young at the age of 12. I played club cricket and company cricket. I started playing professionally at the age of 22 when I played the Times Shield which is a company sports event where all the companies participate in it. I kept playing in it and eventually in 2016 I got the opportunity to go as an overseas profesional in the U.K and that's when my actual cricketing career kicked in.
Q 2) A few days ago you were the player of the match against Kerala, what was your gameplan going into the match and how did you apply it?
We were playing against Kerala and they were on the verge of qualifying for the knockouts. They were really desperate to win against us. In the domestic circuit, Kerala are one of the teams with six or seven left handers and being a left arm spinner bowling against these left handers, I was given a task by my captain and senior players to stick to the basics and bowl tight overs. We needed to be patient, not try anything extraordinary or try to get a wicket in every single over.
In that game, I bowled 22 overs without getting a wicket. My target was to not give runs as we were defending 370 runs which is a very big target. If we keep things tight, there will come a point where the batsman will try something different. You just have to be patient and keep the process right. My game plan was to keep it simple, get as many dot balls and maiden overs. It worked out pretty well for us.
Q 3) As someone who plays all 3 formats, How does the strategy differ as a bowler while playing a Test, One Day and T20?
T20 is about being aggressive, the batsmen are going to be really hard on you so it's important to have a plan A and B and switch between them according to the situation. T20 bowling is pretty interesting as you have to watch the batsman all the time and you have to have your basics right. In One Day's, it's a little longer and you can actually plan things. You are allowed to bowl 10 overs, there are field restrictions and power plays. As for Test cricket, it is a test of character, mindset, strength etc. Playing all three formats is challenging and being able to adapt is key. There is always a game plan and target is given to us which needs to be achieved.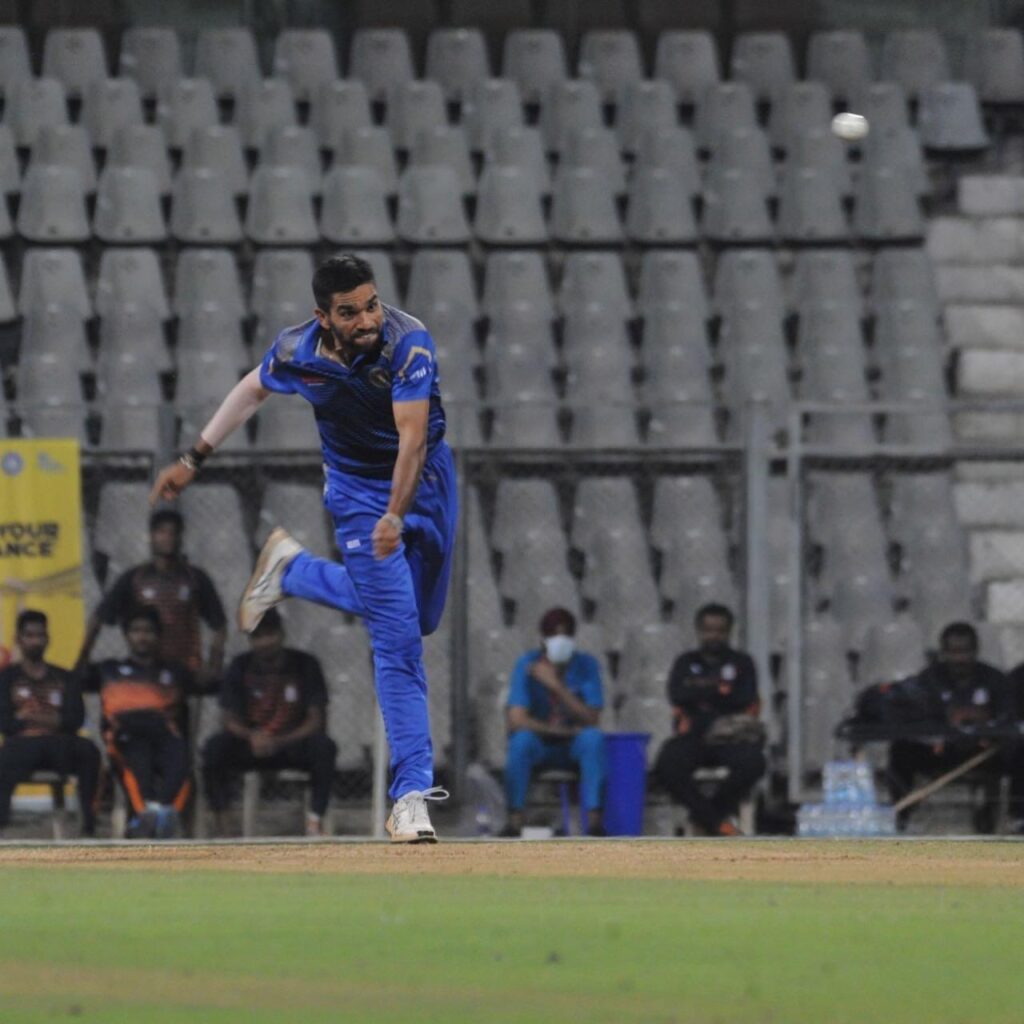 Q 4) Who is your cricketing idol, someone you look up to and who inspires you?
I have grown up watching Sachin Tendulkar and I always wanted to bowl to him. He is such a great legend and so many people look up to him. He's been performing consistently since 22-23 years of international cricket, dominating the sport. Virat Kohli is another cricketing idol of mine, he has transformed cricket, highlighting the importance of fitness and mental strength. I used to weigh 110 kgs and now I'm between 78 – 80 kgs. Virat Kohli has inspired me a lot to train hard, work hard and eat correctly. That's the requirement of the game, if one wants to survive in all three formats of the game throughout the year, being fit is key.
Q 5) What has your experience playing with Pondicherry been like?
Playing for Pondicherry has been an honour as wearing their cap gives me the privilege. I have shared the dressing room with domestic cricket legends like Pankaj Singh and Vinay Kumar who have got over 500 wickets as I have learnt a lot from them. There is Paras Dogra in our team who has more than 9000 runs in domestic cricket and sharing the dressing room with them makes you learn a lot. Pondicherry has been a great experience for me as their infrastructure is great and I would go on to say that it is one of the best in India. It has been a beautiful journey even though we had our fair share of ups and downs. We beat the likes of Mumbai and Tamil Nadu and it's just been a great journey for us young players.
Q 6) Who is the toughest batter you have ever bowled?
I would say the toughest batsman I have bowled to is Suryakumar Yadav when we played against Mumbai in Jaipur. In that match Suryakumar got a hundred and Prithvi Shaw made a double hundred. I would say bowling to SKY was a difficult challenge as he is always one step ahead of the bowlers and it is almost that he reads the bowler's mind and anticipates where the bowler is going to bowl. In white ball cricket Prithvi Shaw is very difficult to ball as he is always looking to take any bowler who is bowling to him.
Q 7) What are your future goals and aspirations and how do you intend to achieve them?
My future is to play IPL and my goal is to play cricket as long as I can. For me it is to remain fit and mainly evolve as a cricketer. Cricket is a very unpredictable sport and I just want to be able to express myself on the cricket field.
Also read: "Avesh Khan is the toughest bowler I have ever faced" – Pondicherry cricketer Jay Pande