Paralympic stars Dylan Alcott and Diede de Groot create history by winning the Golden Slam in wheelchair tennis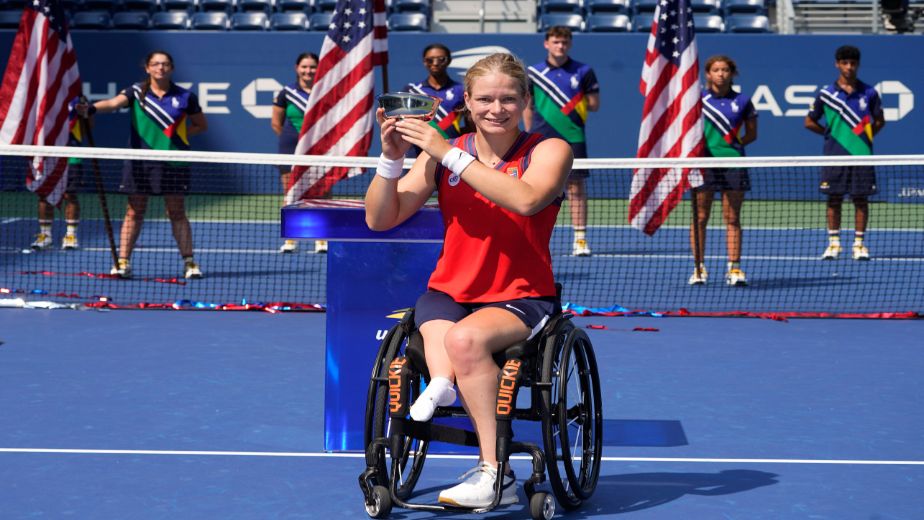 (Tennis news) History was created on Sunday when Dylan Alcott and Diede de Groot won the U.S Open to conclude the most successful tennis campaign imaginable. Nobody in the history of wheelchair tennis had won the Golden Slam until yesterday and when it finally happened, it occurred not once but twice.
Having already won the Australian Open, French Open, Wimbledon and Paralympic gold medals, Dylan Alcott and Diede de Groot won the U.S Open in dominant fashion to cement their historic accomplishment. World number 1 from Australia Dylan Alcott defeated Niels Vink of the Netherlands 7-5, 6-2 in the quad singles division while Dutch World Number 1 Diede de Groot defeated 2nd seed Yui Kamiji of Japan 6-3, 6-2 in the Women's Singles Final.
Only Steffi Graff in 1988 has won all four Grand Slam titles and an Olympic gold medal in the same year. The accomplishment was not possible in wheelchair tennis until 2016, when Wimbledon was added for wheelchair tennis players. Alcott, who previously won a Paralympic gold medal in basketball in 2008 became the only male tennis player to win the Golden Slam.
In his acceptance speech, Alcott said "To all the sponsors, everybody that makes it happen, thank you for putting us on stadium courts, changing my life, changing Niels's life, but hopefully changing the lives of millions of people with disability around the world, that they can see themselves on the big stage doing what they love." He continued, "I used to hate myself so much. I hated my disability. I didn't even want to be here anymore. And I found tennis, and it changed and saved my life, and now I've become the only male ever in any form of tennis, I think, to win the Golden Slam, which is pretty cool."
Both Dylan Alcott and Diede de Groot were honoured during the men's final between Novak Djokovic and Daniil Medvedev. Alcott poured a can of beer into his trophy and chugged it, much to the crowd's delight. "I just haven't done it in front of 20,000 people and 50 million watching. There was no chance I wasn't going to skull that beer on Arthur Ashe after I just won the Golden Slam.
"I saw I got a smile from Novak and Medvedev, action which was nice. I wouldn't want to be a beer in New York tonight, because you're going to get destroyed. That's for sure.''
Also read: Daniil Medvedev does the impossible against Novak Djokovic at the US Open final, Emma Raducanu captures first Grand Slam in style