The match is won in the mind even before the fight begins - Indian taekwondo athlete Anisha Aswal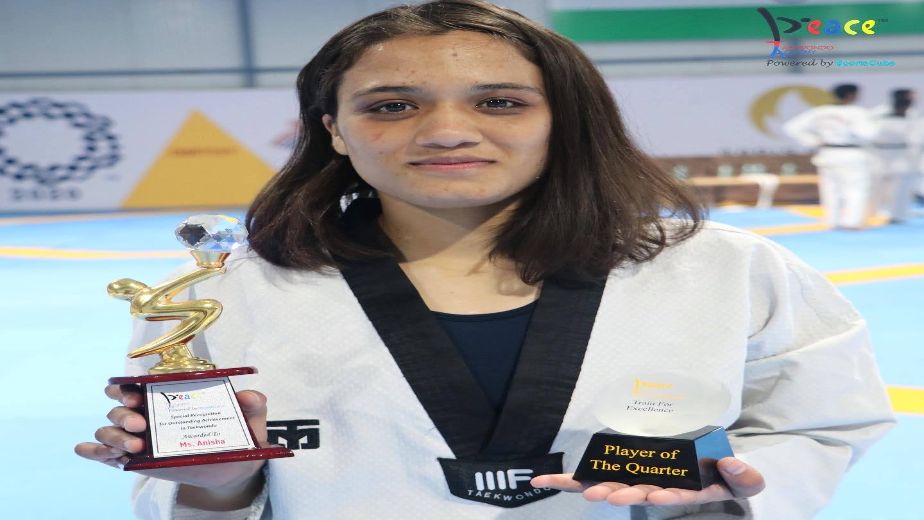 Anisha Aswal is the All India Rank 1 in the female, under 49kg weight category and is one of the country's brightest taekwondo prospects. In India, the idea of women competing in combat sports is a relatively alien concept, especially at a professional level but with the various accolades and accomplishments achieved by Anisha Aswal, she is not only proving her doubters wrong but paving the way for future female athletes to make a career in combat sports.
In this exclusive interview with SPOGO the talented athlete speaks about being introduced to taekwondo and pursuing it professionally, getting support from coaches and family, the importance of mental strength, overcoming challenges, the standard of taekwondo in India and her future goals.
Q 1) When were you first introduced to taekwondo and what motivated you to pursue the sport professionally?
I was first introduced to Taekwondo when I was in my 6th grade as we had to choose two activities in school. I chose music and my mother told me to choose Taekwondo as it also helped me in self defense. Then the school reduced it to one activity and I continued going for Taekwondo as I started liking it which prompted me to go professional in 2016.
Q 2) How proud are you of being All India Rank 1 in the Female, Under 49kg weight category? Who are the people who have helped you achieve this milestone in your career?
First of all, I will have to thank my mother Rajkumar Aswal who has helped throughout my career. She told me not to worry about the financial problem and that I could achieve my dreams. My father Trepan Singh Aswal has been a pillar of support as well as my brother Abhishek Aswal, my family has been very encouraging right from the start. My coaches, Sayad Hassan Rezay and Sandeep Chauhan have also played a major role in my career and they have always been there whenever I was affected by injuries. My manager Vinay Singh has also helped me through my tough times including giving me emotional support when I needed it, my teammates who are always with me during training and have been with me during my good and bad days. My journey has been guided by many people, they have helped me at every stage of my life and hope they keep doing it in the future.
Q 3) How important of a role does mental strength play in defeating your opponent in taekwondo?
In any sport being physically strong isn't enough, mentally you need to be more prepared. When I started out I used to think that this sport is all about the legs but now that I'm playing professionally for the last 4 years I have realised that your mental health is just as important if not more. Whatever is going on in your mind, the same thing is reflected in your body. If my thinking is negative then actions will also be negative. Before and during a championship I always eliminate the negative thoughts in my mind and always try to be positive and focus on my goal. My coaches also play a big hand in that and remind me of my strengths and the preparation I've been through but this has to be done by yourself before others. In Taekwondo, your mind is as important as your body as you have practically no time to think about your next move.
Also read: The awareness in sports medicine is increasing but a lot of improvement is required - Dr. Aashish Contractor
Q 4) What are some of the challenges that you have faced in your journey so far? How did you overcome them?
When I joined the academy in 2016 I was in 11th grade. I had to travel a lot first to get to school and then to training. I barely got any time to rest but to achieve what I have achieved you have to make these sacrifices. I'm getting the results for all the hard work I have done right from those days. Nowadays the problem is primarily financial but my mother takes care of that. I used to worry a lot about all these things but now my mindset has changed and I'm just focused on my game. Worrying about other things takes my mind off the game and training.
Q 5) Who are some of the toughest opponents that you have faced in your career so far? What are your views on the standard of taekwondo in India?
Till now I have faced a lot of athletes, some of them have competed at the Olympics as well and to be honest with you, all the opponents were at the same level as it was my first time competing but at that time I had no experience as compared to now. If you compare the young me and now, I was not mentally prepared back then but over the two years I have figured out that the mental aspect of the game is as important as being physically strong, the game is won in the mind even before the fight begins. At this present time I don't think I'm scared of anyone, the coaches in India are not at the level of the foregin coaches and the main problem is that there aren't proper taekwondo events in India as the top players tend not to participate in these open tournaments.
Q 6) What are your future goals and aspirations? How do you plan to accomplish them?
My dream is to win an Olympic medal for India and also achieve a distinguished world ranking, as for now the main target is to participate in as many tournaments as I can, playing in many tournaments will help increase my ranking. The more I compete the faster I can achieve top 10 or top 5 rankings. My major focus is to get ready for the World Championship at the moment.