At the age of 27, Sarath Mohan is a rally raid racer from Malappuram, Kerala who has been riding professionally since a decade. He recently won the Indian National Rally Championship in Class 1-A and is aiming for the MRF Indian National Rally Championship along with Desert Challenge International Rally in Abu Dhabi in April 2023.
In this exclusive interview, Sarath Mohan speaks about his journey so far, special achievements in his career, the role of FMSCI in increasing the visibility of motorsports in India, participating in the Dakar Rally in the future, sporting idols, mental and physical preparation before an event, overcoming challenges and his future goals!
Q 1) You started riding professionally at the age of 17. When did you first discover your passion for motorsport and what motivated you to pursue it professionally?
I did start riding professionally at the age of 17 but I had been riding since the age of 12. The passion was always there because I like to ride motorcycles and I like to ride fast. I live in a village where there is ample space to ride. The passion started when I was really young and it has continued since then.
Q 2) How proud are you of currently leading the MRF Indian National Rally Championship in your category? What are some of your other achievements so far?
Last year I was very close to winning but I crashed and couldn't finish the rally. 2021 was a character building year for me as I went through a lot of ups and downs in my personal and professional life. I'm really proud of the achievement. As a person I always like to finish what I started and winning the category is a really big achievement.
Q 3) What can be done by FMSCI to increase visibility towards motorsports like rally-raid, motocross and supercross in India?
I think FMSCI is doing their best but in my opinion we need more manufacturers to come into the sport. There are only 1 or 2 manufacturers in India and the sport will only grow when there are more. We need more events to happen and as an athlete we need more contract sponsors. All the big brands like TVS, Hero, Honda, KTM and Yamaha are not spending a lot of money on racing in India.

Also read: My ultimate goal is to become the Number 1 golfer in the world: Aryan Roopa Anand
Q 4) Are you optimistic of competing in the Dakar Rally in the future? How are you working towards achieving that dream?
It's a big dream for most of the professional rally athletes. For me the Dakar Rally is the ultimate goal. You can't just go there and do what you feel like, it is a step by step process. As a part of that I moved to Dubai because in India we don't have big deserts. In order to win the rally you have to ride in a lot of dust and improve your training. The training here in Dubai is really solid because you have big dunes and I get to train with top athletes from all around the globe. For me I'm training every single day and I'm really looking forward to it.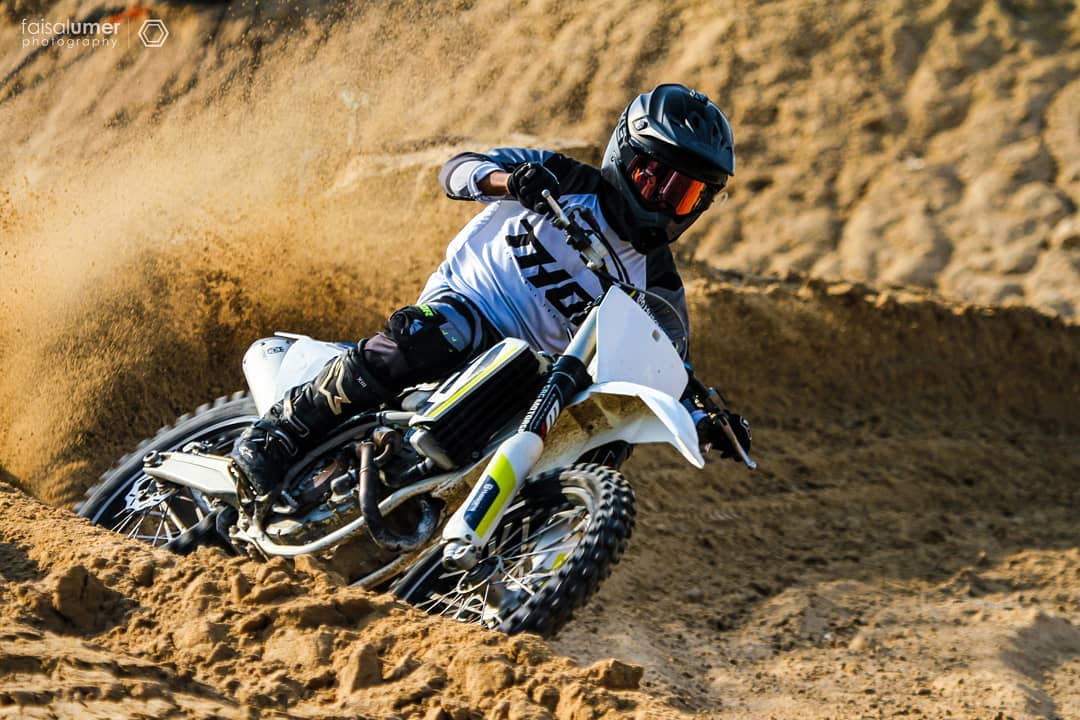 Q 5) Who do you look up to the most in this sport and who were your sporting idols?
There are a couple of riders I like in motocross such as Glenn Coldenhoff who is one of my favourite riders and I really like his riding style. In rally raid I like Toby Price because of the way he approaches the sport, his mindset is different. Rally raids are really fast and you don't want to crash at high speeds of 150 – 160 and the motorcycle weighs around 180 kgs so it's important not to crash it.
Q 6) How do you prepare yourself physically and mentally before a big event?
As an athlete, I wake up around 5:30 – 6:00 am and I cycle for 30 – 40 kms. Sometimes I train inside my apartment as well. I have a cycle trainer so I do one hour of cardio after which I go to motorcycle or dirt bike training which lasts two to three hours. One month before an event, I speak to my sports psychologist who helps me perform at an optimal level.
Q 7) What are the biggest challenges a motocross and rally raid racer faces in India? How did you overcome them?
India is a big country and we have multiple manufacturers but only a few of them are involved in racing. Hero recently came a few years back and TVS has been there since the last 20-25 years. To do national and international events, the money involved is huge and to train as a professional athlete, it's really difficult to convince Indian sponsors as they are not aware of rally raids or motorcross. It's a big struggle to convince them how big motorsports is. Convincing sponsors is the biggest struggle as a private athlete.
Q 8) What are some of your long and short term future goals? How do you plan to achieve them?
My goal in 2022 was to win the Indian National Rally in my category and I have achieved it. For next year, I want to do cross country rallies like Desert Storm and Indian Baja. The Dakar Rally is my ultimate goal and I want to represent my country at that event. If I ever participate in the event, I want to finish in a respectable position as I'm representing India and I'm working very hard every single day and I truly believe it will pay off in the future.