Indian athlete Kimaya Tandon is a perfect example of dedication, perseverance and hard work. She has won the bronze medal in the 4*400 relay in the ICSE School National and was selected for Khelo India in Panchkula, Haryana for 400 metres last year. She currently holds the record in 200 metre and 400 metre categories at a meet conducted by Sports For All and has won the gold in the 200 and 400 metre category national in Haryana by the Student Olympic of India.
In this exclusive interview, Kimaya Tandon speaks about her journey as an athlete, special accomplishments, support from Arya Vidya Mandir School, overcoming challenges and her future goals.
Q 1) At what age did you begin athletics and what has motivated you to pursue it professionally?
I have been training with Firoz Sir since 2017 and will be completing six years in April. I began athletics to lose weight and then with my coach's support and motivation, I slowly started seeing results and hence planned to pursue it as a sport. Athletics gives me a sense of confidence and freedom, it is like an escape from a busy schedule, and stepping on the track itself gives me a serotonin boost!
It is one of the main building blocks of my identity and has taught me great virtues of life; like hard work, perseverance, and dedication. Because of athletics, I can apply these morals to my everyday life too, this has helped me create a positive environment for myself! 
Q 2) You have achieved a number of accolades in your career so far. Which accomplishment is the most special for you and why?
Being invited as the Chief Guest for the Primary Sports Day of Arya Vidya Mandir (Bandra East). It was one of the most prestigious moments of my life and helped me realise that my wins and losses alike have inspired a lot of young children. As an athlete, one of the best things in life is when someone looks up to you as their inspiration and that is why it is the accolade closest to my heart!
Q 3) How has Arya Vidya Mandir School supported your sporting career? How do you balance your studies and sports?
I had been in Arya Vidya Mandir (Juhu) from preschool to 10th grade and one of the main reasons I was able to achieve what I did was because of the tremendous support from my school. Every time I missed an examination because of an athletic meet, they were ready to set another paper just for me! The teachers helped me cover up schoolwork that I had missed and were ready to spend extra hours teaching me. The school also celebrated every achievement of mine, whether it was a small district medal or a national one!
Balancing studies and sports has not been easy and it came with a lot of sacrifices. As I always had a packed schedule (training and school with no breaks!). One of the main things I learned was to plan my day well, manage my time to give everything equal importance, and maintain a good sleep schedule. Prioritising certain events is also very important, during competitions my entire focus is on competing, and during examinations, only on studying!
Also read: My goal is to produce more international athletes: Trackblazers Sports Academy founder Firoz Ustad
Q 4) What are the biggest challenges that you have faced in your career so far? How did you overcome them?
Initially, the biggest challenge I faced was with my weight, throughout my childhood I was on the heavy side and it took a lot of 4 am mornings to lose that weight! When you start competing at a certain level, there is a lot of performance pressure on you. Along with this comes mental stress and I think dealing with this has also been a challenge. Any time I feel stressed out or mentally drained, I remember my wins, watch my races and get in a quick movement session. This helps me be active and boosts my mood!
My coach has also helped me deal with this, he always gets me to talk about any stresses I have and creates a plan for me that includes sufficient rest and training. Another was when our training was suddenly stopped during the pandemic. We then trained on Zoom Calls and in the building basement, Firoz Sir was one of the main people who actually kept us on our feet and made sure we did not miss a single session!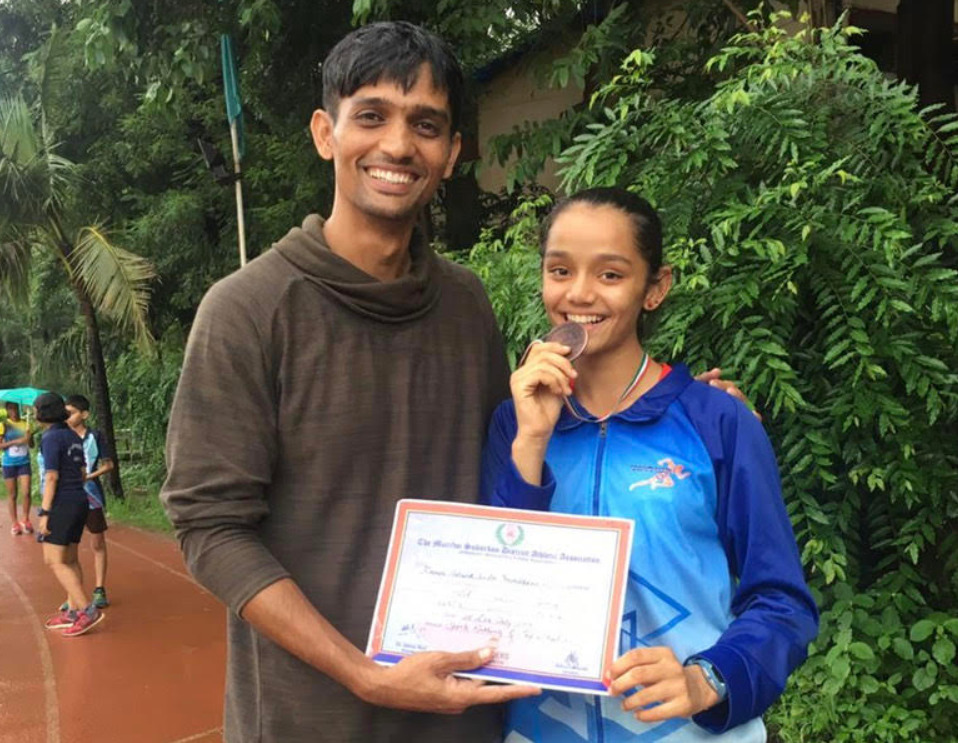 Q 5) What are your future goals? How are you working towards accomplishing them?
As for short-term goals, I am currently writing my Grade 12 Board Examinations and after this, I plan to resume my training and work towards the State Selections coming up in May/June. I have set timing goals for myself in the 200m and the 400m and hope to achieve them soon.
Starting in August this year, I will be attending Claremont McKenna College (CMC) in California to study Data Science and Economics where I have been recruited for Track and Field. Here I will be continuing my academic and athletic career for the next four years!