Despite being just 13 years old, Sanisska won the gold medal in 400m and long jump (creating a new meet record) at the MISA Velocity Tournament and winning three gold medals in ISSO National. She won the bronze medal in the 600m category in the DSO district final at the Kandivali Sai Ground earlier this year and won the gold medal in 400m and relay at Jamnabai Cascade in August last year.
In this exclusive interview, Sanisska Sawla speaks about her journey in athletics, special achievements, overcoming challenges, importance of mental strength, athletes that she looks up to and her future goals in sports.
Q 1) What introduced you to athletics and what motivated you to pursue it professionally?
In my 1st grade sports day, I ran really well and won the race by a good margin. My parents were surprised to see that and they wanted me to pursue it. In school at athletics events I always used to win medals and I felt that I should take it up professionally by training properly. When I watched the movie 'Dangal' it really inspired me. Watching Geeta Phogat perform nationally and internationally really motivated me. I look forward to playing nationally and internationally to play in front of big crowds like she did.
Q 2) You have a number of accolades in your career so far. Which is the most special for you and why?
Personally there are 2 which are very special to me. One is the Members of International School Athletic (MISA) event and the other is the nationals. In the MISA event I created a record which was really nice and nationals was special because it was a very big event where I was competing with the elite athletes of India.
Q 3) What are some of the biggest challenges you have faced as an aspiring athlete in India? How did you overcome them?
One of the first and biggest challenges was that when I first joined Trackblazers Sports Academy my ankle was very weak because before that I had torn my ligament. My coach Firoz Sir gave me good strengthening exercises and workouts. There was also a little weight training and with that I improved my diet to make my ankle strong enough to perform at the highest level. 
Also read: "Sydney Mclaughlin is one of my biggest idols" – Track and Field athlete Chelsea Lewis
Q 4) How important is mental strength in competing at the highest level? How do you prepare before a big tournament?
Mental strength is important in an athlete's career. Recently in the month of May I was supposed to participate in an individual event in the nationals games but they changed all the events for the U16 and U14 as it became a triathlon. All of a sudden I had to change my mental preparation as I had to prepare for three events. It was my coach who helped me calm my nerves down and told me to work towards my goal.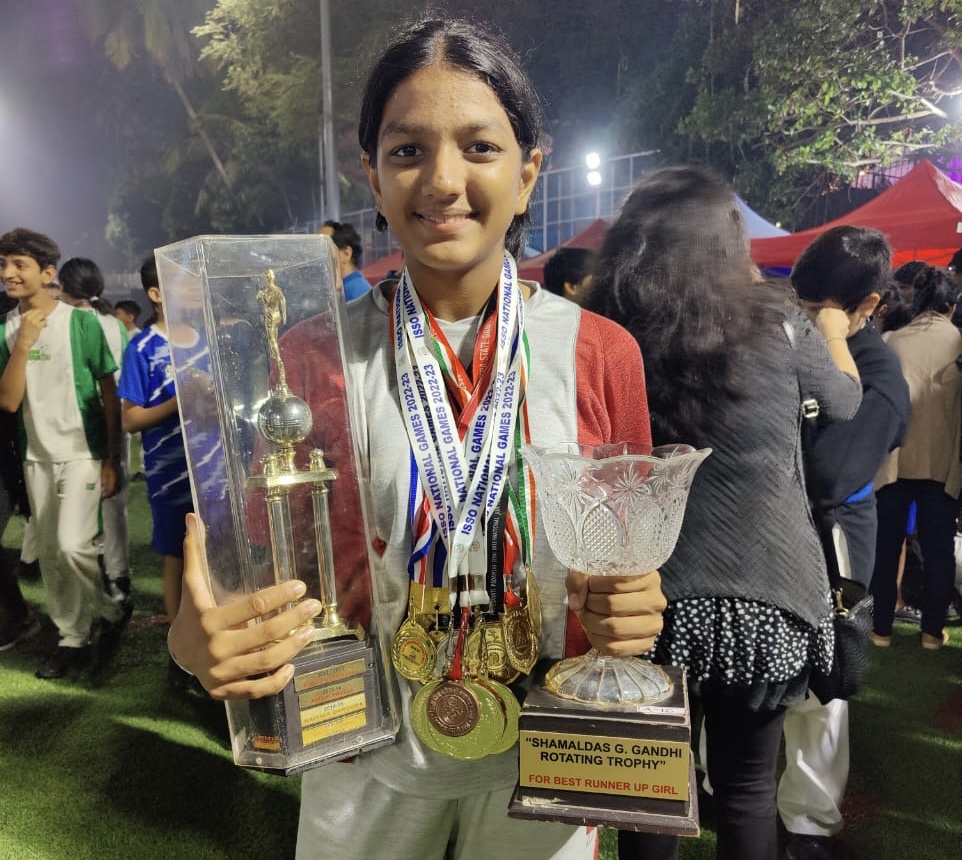 Q 5) Who are some athletes that you look up to for their sporting achievements? What inspiration do you take from them?
I think Sydney McLaughlin has really inspired me even after reaching such a high level, she has kept herself grounded and the most important thing that made me idolise her is that she is very calm under pressure. She has broken numerous world records because she puts her heart and soul into her races and that really inspires me. I would say Neeraj Chopra inspires me as his humble attitude and conviction to work harder and get better really motivates me.
Q 6) What are your future goals? How do you plan to achieve them?
My future goal is to go to the international stage and also break national records and I'm planning to achieve them through the guidance of Firoz sir.