(Motorsport) Formula 1's second most successful team McLaren have revealed a new 'Triple Crown' livery, celebrating their victories in three of the most prestigious events – the Monaco GP, 24 Hours of Le Mans and the Indianapolis 500 which are together known as the Triple Crown. Graham Hill remains the only driver to have completed the treble while McLaren are the only team to manage the accomplishment, completing the set in 1995 which was also the year they made their Le Mans debut.
McLaren have taken this opportunity to prepare special liveries celebrating their Triple Crown triumph on the weekend when both the Monaco GP and Indy 500 will take place. The livery for the Indy 500 car was revealed in April but McLaren waited until race-week in Monaco to reveal the design of their Formula 1 car. The iconic orange that dominates the MCL60 will remain at the rear but the centre of the car is white in tribute of the MP4/2 that was driven by Alain Prost when he won the 1984 Monaco Grand Prix while the front end pays homage to their Le Mans triumph.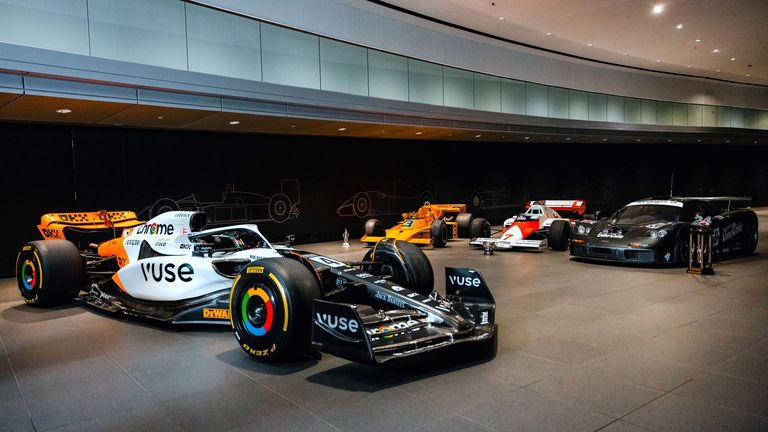 The livery will remain on the car for next week's Spanish Grand Prix as well, which takes place a week before this year's Le Mans. McLaren driver Lando Norris said "It's a privilege to be involved in McLaren Racing's 60th anniversary celebrations and to combine three iconic race winning McLaren liveries into one for the 2023 Monaco Grand Prix is going to be a special moment for the whole team. McLaren have an impressive record in Monte Carlo and on a personal level to have experienced a podium at the 2021 race was a huge honour. We'll be racing hard in a great looking car to celebrate Bruce McLaren and the team's amazing legacy."
McLaren chief executive Zak Brown added: "Having achieved the greatest accomplishment in motorsport by completing the Triple Crown, we are proud to celebrate the rich history of McLaren Racing with a special livery at the 2023 Monaco Grand Prix. In line with our 60th anniversary celebrations and honouring the legacy of Bruce McLaren, the unique livery pays homage to the three victories which form the Triple Crown accolade."
McLaren have had a very disappointing start to their 2023 season, claiming just 14 points in the opening five races. They saw an upturn in performance at the Azerbaijan GP last month after significant upgrades were installed in the MCL60 but did badly at the Miami Grand Prix a week later, which has cast further doubts about the competitiveness of their 2023 car. For all their heritage, McLaren's underperformance has also cast doubts about Lando Norris' long term future at McLaren as the British driver remains one of the most promising drivers on the grid.
Also read: Formula 1 team Aston Martin confirm Honda as new engine partner from 2026