Everything that I have achieved is largely because of people who supported me - Aman Kadyan, Taekwondo athlete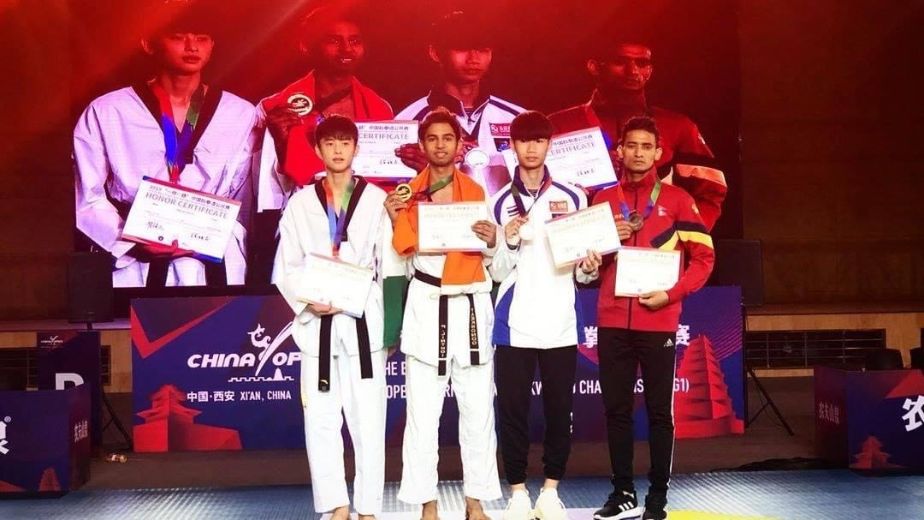 Having started Taekwondo at the age of 14, Aman Kadyan has been training under Mr. Sayed Hassan Rezai at the Peace Taekwondo Academy. He has already won a silver medal at the WT President Cup in the Oceania region in 2019, a gold medal at the Indian Open International 2019, bronze at the WT President Cup Asian Region 2018 and Israel Open 2018. Currently All India ranked 1 and World rank 25, Aman is now aiming for bigger achievements and is dedicated to fulfilling his dreams.
In this exclusive interview with SPOGO, Aman Kadyan speaks about being introduced to Taekwondo and pursuing the sport professionally, being supported by the GoSports Foundation, winning the bronze medal at the Russian Open, overcoming difficulties, the influence of the sport on his life and his future goals.

Q 1) What made you get into Taekwondo and what motivated you to pursue the sport professionally?
It started from a class bunk, I skipped math and went to a Taekwondo class and slowly gained interest in the sport. I pursued Taekwondo professionally in 2015 at the Peace Taekwondo Academy and I want people to recognize this sport as the same as any other sport in the Olympic Games. My dream is to get a medal at the Olympics, Asian Games, World Championship and the Asian Championship. My goals motivate me to keep going and I'm grateful for an amazing family, coaches, managers and friends who help me pursue my goals.
Q 2) How has the GoSports foundation supported you throughout the journey?
GoSports Foundation has been the backbone of my journey and has supported me since 2019. They have supported me in times when I was injured and helped me out of rehab, when I needed them the most. They organized a lot of online sessions during the lockdown and have helped me financially to compete in competitions so that I can fulfill my dreams. I'm grateful to have them as my family.
Q 3) How did it feel after winning the bronze medal in the Russian Open this year?
I couldn't participate in any tournaments for 18 months due to COVID-19 restrictions despite regular training, so winning the bronze medal at the Russian Open made me very happy and excited, it was an amazing experience.
Also read: Our goal is to create future champions in the sport of Taekwondo for India - Vinay Kumar Singh, Peace Taekwondo Academy
Q 4) How has the sport shaped your body and fitness regimen?
Taekwondo is a tough combat sport that requires both physical and mental strength to achieve the desired result. Since I've been training since 2013, I have no doubt that the sport has made me physically strong, fast and active. The first thing Taekwondo taught me is that it requires discipline and has made me more calm and patient.
Q 5) What are some of the difficulties you have faced and how did you overcome them?
Every athlete who achieves something in their career goes through difficulties, whether it's injuries, financial or personal issues. From 2016 to 2018 was really difficult for me as I wasn't able to participate in any competitions. I endured injuries and faced other issues but never gave up on my dream. I found a way to achieve my goals with the help of my coach Hassan sir and Vinay sir which ensured that 2019 was the turning point of my life. I achieved World Rank 30 and All India rank 1 and it changed everything and it's largely because of the people who always supported me.
Q 6) What are some of your goals and aspirations in the future?
The upcoming Asian Games, World Championship and Paris Olympics 2024 are a part of my goals. My family, especially my mother is the biggest inspiration for me as she has sacrificed a lot to ensure my dreams are fulfilled. All my achievements and medals belong to her.