Opportunities aplenty for aspiring female cricketers post evolution of the game - India A all rounder Tejal Hasabnis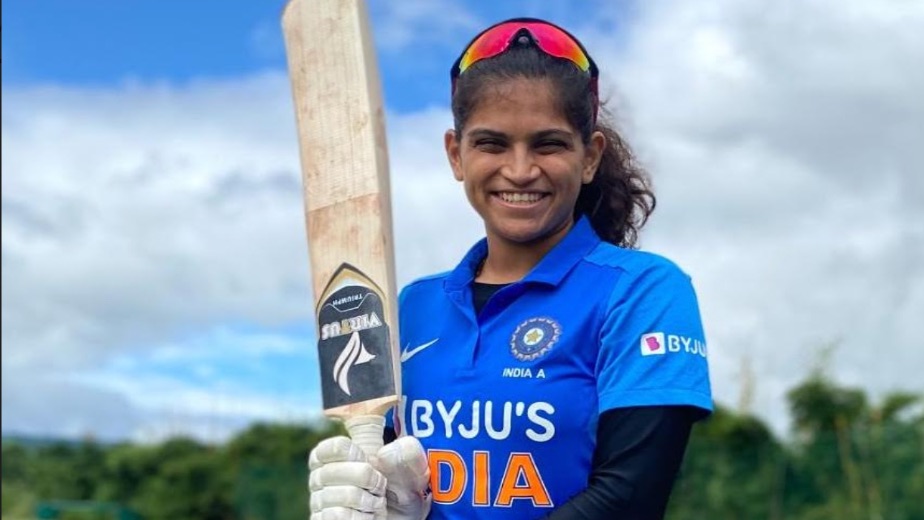 In a cricket crazy country like India, it was only a matter of time before the Indian women's team began to get the recognition they deserve for their accomplishments. Cricketers such as Shafali Raj, Smriti Mandhana, Mithali Raj, Harmanpreet Kaur and Deepti Sharma to name a few have elevated the sport to new heights and have inspired the next generation of girls to take up the bat or ball and make their dreams come true.

One such cricketer is 24 year old Tejal Hasabnis who is a talented all rounder representing the India A team. In this exclusive interview with SPOGO, she speaks about her journey so far and what motivated her to pursue cricket professionally, overcoming hardships and challenges, the most memorable moments from her career so far, spreading awareness about COVID-19 and her future goals and aspirations.

Q 1) How did you start your journey in playing cricket and what motivated you to take this sport professionally?

I have always been into sports since school and I remember playing different sports during summer vacation. All the boys in my society used to play cricket during the summer and I used to watch them from my balcony. One day I went down and asked them if I could play. They agreed and were very supportive. At that time, I did not know how to hold a bat etc. I was connecting the ball well, so after the game got over they taught me how to hold the bat and the basics. From then onwards I used to play with them during every holiday and would eagerly wait for Sundays to get the opportunity to play.

What I do remember about gully cricket is that my school exams would usually start on Monday's which meant the Sunday before the exams was annoying because my mom wanted me to study but I wanted to play. We made a deal where I would play cricket from 10:30 am to 1 pm and after lunch, I would study without taking a nap. Back then, I didn't know about professional cricket.

The Pune District Association organized an inter-school women's tennis ball tournament and it was easy for me to score big runs because I was used to playing with the boys. I was selected for the district team because of that performance and attended the state camp in the same year. As I enjoyed playing cricket, I was enrolled into coaching with a proper leather ball and that's how my journey as a professional began. Cricket has not just made me a better player but it has also made me stronger and wiser and my drive has kept me motivated.

Q 2) You can shine with a ball as well as a bat. How do you balance between both since there are very few all-rounders in the game?

Being an all-rounder is challenging as it takes a toll both physically and mentally. Maintaining a good diet and managing our skills is very important to balance both and it's immensely satisfying to contribute more to your team and makes all the hard work worth it.

Q 3) What are some hardships/challenges you have faced in your career, how did you overcome them?

One of the most challenging things for me was to accept and adapt to the changes and uncertainties of sports such as being injured, not getting selected, having a bad patch etc. These are realities that hit you hard but it's important to know how to pick yourself up and keep going with the same focus and a positive attitude. My close friends and family have played a very crucial role in giving me a healthy environment where I can be myself and give my best everyday. When I look back, I'm grateful for my journey and all those moments that helped me grow.




Also read: Where I am today is because of people around me: India's 20 year old cricket star Jemimah Rodrigues

Q 4) What are some of your most memorable moments in cricket?

There are a few memories that are very close to my heart, winning the Emerging Asia Cup is one of them. I will always cherish wearing the blue Indian jersey and contributing to the team's success

Q 5) What changes do you want to see in women's cricket in India as well as in the world?

Over the years, women's cricket has adapted and changed and it will continue to do so. It's very different from when I started and some of the changes have been very positive and motivating. I would love to see women's cricket getting more recognition as it will help aspiring cricketers to pursue the sport professionally.

Q 6) You have also worked with an NGO to spread awareness during COVID-19, what inspired you to do that?

When I was in school, I read a quote "I always wonder why somebody doesn't do something about that, then I realized I was somebody." It really hit me hard, as a society we want things to change for the better but very few of us are willing to change our habits and work for it. It motivated me and I've been associated with various social workers groups since a young age. Whenever I'm in Pune, I join them and participate in various activities. My parents have inspired me to do this as I've always seen them work hard selflessly.

Q 7) What are your future goals and aspirations and how do you plan to accomplish them?

My ultimate goal is to help the Indian women's cricket team lift the World Cup and I have short term plans to make it a reality. I'm working on my skills, fitness, the mental and tactical aspects of my game to improve myself. I want to enjoy this process and let the outcome take care of itself.