Late heartbreak for Lando Norris as Lewis Hamilton wins Russian GP to record 100th F1 victory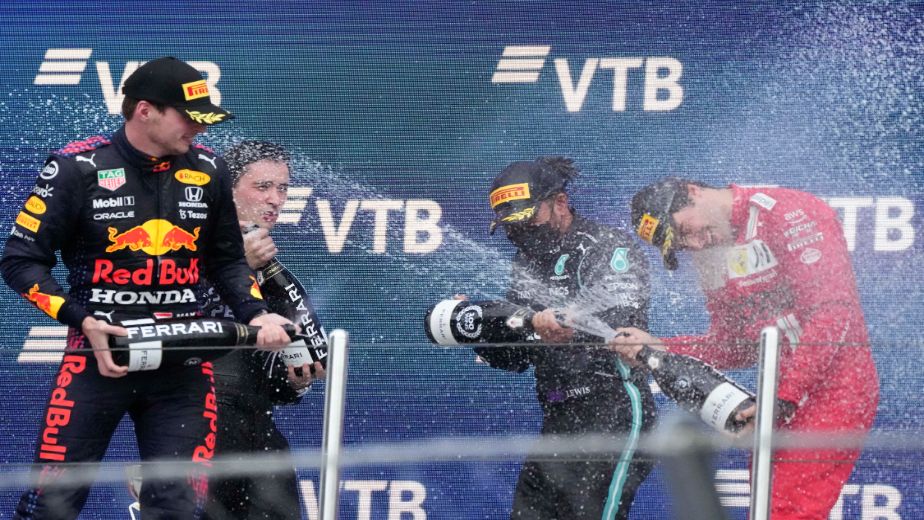 (Motorsport news) Lewis Hamilton overtook Max Verstappen in the Drivers Championship with a lead of two points after winning the Russian GP. Lando Norris, who displayed exquisite performances throughout the weekend was very unlucky to not win at the Sochi Autodrom as his dry tyres simply didn't give him the grip required when the heavy rain hit to keep Hamilton at bay. The 21 year old British-Belgian racing driver would be heartbroken to finish in seventh place after leading for the majority of the race.
Verstappen, who started the race at the back of the grid after incurring a penalty due to the collision with Hamilton at Monza and an engine change put up an impressive display to finish in second place with 18 points. Carlos Sainz and Ferrari finished in third place ahead of Daniel Ricciardo, Valtteri Bottas, Lando Norris and Fernando Alonso after being second fastest in the qualifiers.
However, it was Lando Norris who may not have won the race but definitely won all the hearts as Britain's youngest ever pole sitter who was also set to become the youngest British driver to win a Formula 1 race. Questions will be raised about the strategy employed by McLaren and Norris, who was in the lead with eight laps to go when rain started getting increasingly heavier. McLaren and Norris' decision to remain on slick tyres in hindsight was the wrong one and eventually led to a catastrophic spin in the 51st lap out of 53, which was immediately capitalised by Hamilton.
With this result in Russia, Lewis Hamilton became the first Formula 1 driver to win 100 races, surpassing Michael Schumacher's record of 91 last year. The British racing driver is now the most successful F1 racer in history, having won 7 World Championships, 101 poles and 100 wins. "It has taken a long time to get to 100 and I wasn't even sure if it would come," said Hamilton. "It is a magical moment. I could only have dreamed of still being here, to have this opportunity to win these races, and to drive with such phenomenal talents this late on in my career.
"I am so proud of everything we have done with Mercedes, on and off the track, and this is a special moment for everyone that has been part of it. My dad called me last night and he has always been that one to reassure me and to continue to support me. I feel incredibly grateful for the amazing support that I have had."
In an interview with Sky F1, Toto Wolff said "I think we are witnesses of a career that is just amazing. The 100th race victory is just mind-blowing. I think if you were to be in awe that would be the wrong working relationship and friendship. But we realise that we are being part of a journey that no other sportsman in Formula 1 has done so far and that is beyond the races that we have won or the championships - from the human aspect it is something special."
The next Formula 1 race will take place at Istanbul Park in Turkey with just two points separating Hamilton and Verstappen. Be sure to catch all the action LIVE on Sunday, 10th October from 6:30 pm IST.
Also read: Extreme E releases their calendar for 2022 season