Getting the opportunity to play for India in 2016 was the happiest and proudest moment for me - Rugby player Sumitra Nayak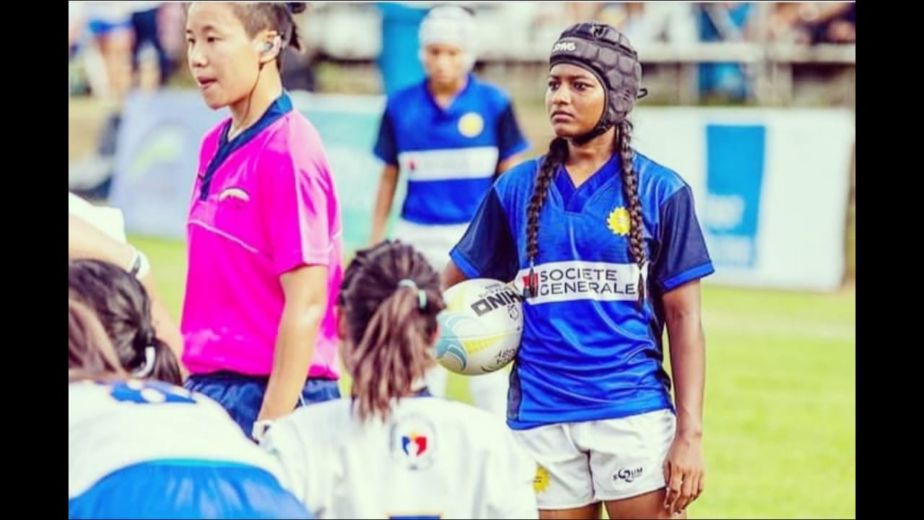 Indian women's Rugby team has been enjoying a fair amount of success since the last couple of years thanks to their promising rising stars.

Sumitra Nayak, the 21 year old rugby player from Jajpur is one of the rising stars in the Indian team and has frequently made headlines in rugby news. She has bagged medals for India and played an important role in scripting the country's bronze medal victory in the 2019 Asian Women Championship by scoring a penalty kick in a thrilling game against Singapore.

In an exclusive interview with SPOGO, Sumitra shared her incredible story which is marked by courage, sheer hard work and her mother's fortitude - all that went into making her whatever she is today.

Q 1) You were introduced to rugby when you moved to Bhubaneshwar, what did you love about the game and when did you feel it's a sport you should pursue professionally?

I started playing Rugby in 2008 in the Kalinga Institute of Social Science - KISS where both education and sports were provided for free of cost. I had only heard of Rugby before and didn't know anything about it before I had joined KISS in 2008. I remember seeing players running, taking an egg shaped ball in hand, rolling and tackling it which I found quite weird because I had never seen such a sport before. I did find it interesting but never thought I would play it professionally. However, in 2009 when I went to the playground with my friends after our class was over, there were many coaches present at the ground who were training. They called us and asked us to run for a hundred metres with a ball in our hand. I didn't understand much but it was quite fun and interesting. I was fascinated by the ball and played the sport out of sheer liking for it. I had never thought I would pursue this sport in my life.

Q 2) How big of a role has your mother played in the rugby player that you are today?

I come from a very small Duburi village of Jajpur district in Orissa. Girls in my village aren't given many opportunities to stand on their feet or take up sports. They mostly marry their daughters at the age 13-14. My mom however had other dreams. My father didn't provide us with any support in terms of finances or even our education. He would drink and was selfish while my mother would work as a domestic helper at people's houses and get us some money and food. My mother thought we didn't have a future there and wanted to move out of our village at any cost. The owner of the place where she would work encouraged and helped her to move into Bhubaneswar. Hence, my mother brought me and my 9 month old sister to Bhubaneswar where I didn't get an opportunity to study for the initial 2 to 3 years as there was no one to take care of my little sister. My mother felt that her decision of moving into a big study would make no sense if she is unable to provide us with education. However, she needed a hostel facility where I could stay without her needing to come to drop and pick me up from school and could focus on her work without worrying for me. She got to know about an institute where tribal children are educated along with being provided with food, accommodation, sports coaching for free and thus enrolled me in KISS in 2008.

Q 3) How did your coach Mr. Rudrakesh Jena help you develop into a better rugby player?

I had to give him multiple tests when I first entered Rugby. Rugby being a contact sport requires you to be physically fit so he gave me correct physical training by which I got selected in the rugby team. Sir helped me a lot since it's a very complicated sport, sharply contrasting to the way it looks. He guided me on various technicalities of the game including how to move forward and tackle. Sir also educated me on how to coordinate the team while leading the side.

Q 3) What is your proudest achievement in the sport of rugby so far?

I was nominated for an international Peace Prize in 2017. I was very happy since the nomination was centred around my life story and the background I came from. Although I didn't win, it was great to be nominated for such an honour. Also, getting the opportunity to play for India in 2016 was my happiest and proudest moment. Gradually the team kept growing and our performance too started getting better. Even bagging a bronze for India in 2019 in the Philippines was quite special and memorable.




Q 4) You came from a small village where girls were not allowed to play rugby. How challenging was it to pursue your passion and what obstacles did you have to overcome?

The people of my village didn't even know about the sport and the fact that even girls play it. The girls are barely educated since they believe we are only meant for marriages, but my mother didn't think like this at all and that was the reason we moved out of that place. People said a lot of mean things to us, discouraged our decision to move in the city and told us our lives wouldn't change there.

Q 5) What are the skill sets required to become a champion?

Firstly, you have to be very honest to be able to achieve your dreams. You have to put in a lot of hard work and effort. If you pursue something with an honest heart you will definitely get it one day. As a sportsperson, I would say hard work, team work, team coordination and sound communication is very important for success.

Q 6) How valuable was the experience and exposure of playing in England as India's captain? What are the different things that you learnt?

When our bhaiyas and didis (seniors) went to England, we also had an intense wish to go there someday but never knew if that opportunity would ever come where we would get to fly in a plane, meet new people and play rugby in England. When we finally got the opportunity through KISS, it felt great, the experience was completely new as we were quite young. We had difficulty in terms of language and food but we somehow managed as we were trained a bit for all this too. The match was great as well and I learnt a lot, especially their time management and discipline.Their behaviour was also good and they were very down to Earth. Apart from that, the cleanliness there also had a great impact on me and when I came back I started educating and telling people about the importance of it wherever I went.

Q 7) You are an inspiration for so many girls out there who fulfilled their dream through hard work, dedication and passion. What is your message for girls out there who want to make a career in sports?

I strongly believe and tell other people that nothing is impossible to achieve. Your goals might be difficult but never impossible to accomplish. When we ourselves don't try, no amount of motivation or pushing from people will help us. You will face many obstacles in your journey and you should always overcome them courageously and move forward in the direction of your goals. I would like to say this especially to girls that when you feel down and hopeless, you will need to find and kinder your inner courage because no one from outside will give it to you. We have it all inside us and we only need to recognise it in order to realise our dreams. Unless we ourselves don't take a step forward people will keep pulling our legs backward.