While sports are often associated with youngsters competing in their prime physical prowess at the highest level, we have seen time and again that hard work, determination and a good attitude can bring about the desired results, irrespective of age. At the age of 39, Indian athlete Bernadine Kalwachwalla has successfully competed in the 100 metre category at the Maharashtra State Master Open Athletic Meet 2018, Bombay YMCA 2019, India Master Athletics as well as other events.
In this exclusive interview, Bernadine Kalwachwalla speaks about her athletic journey, special achievements so far, preparation before a big event, importance of mental strength, overcoming challenges and her future goals.
Q 1) How old were you when you started running in the 100 metres category and what motivated you to compete professionally?
I started at the age of 35. It was over a conversation with my sister who told me about how women my age were competing in such events. She encouraged me to participate too since I was into fitness already and was looking for something to challenge myself.
Q 2) You have competed in a number of tournaments such as the India Master Athletics, Maharashtra State Master Open Athletics Meet 2018 and Bombay YMCA in 2019. Which achievement has been the most special in your career so far and why?
Victory in the India Master Athletic Meet in a tight affair against a fierce competitor from Sri Lanka was both exhilarating and exciting at the same time. But the sad part is that there was no support from the government of any kind to help or encourage one to think beyond the domestic competitions because all costs from training to travelling in such competitions are borne by us. So even if we are eager to participate in international meets, it becomes very difficult.
Q 3) How do you prepare yourself before a big event?
I usually wake up by 4 am to train by 4:30 am. Furthermore, to motivate myself, I train with younger athletes and kids. This helps me to push my limits to improve my speed and to strive harder to achieve my goals.
Also read: My goal is to win multiple trophies for Gods Reign: Esports athlete Garvit "Ember" Nehra
Q 4) Apart from physical fitness, how important is mental strength in becoming a professional athlete?
Once I set my mind on something challenging, I go all in to achieve it. One may misconstrue this as arrogance, but I look at it as respect for the time and effort required to achieve one's goals. That's how I approach my targets, and that helps keep me going. However, I am also a light and free spirited individual who loves laughing and cracking jokes. I love making the people around me lighten up and feel comfortable. I cherish life with no regrets and live it to its fullest. I believe if you can laugh a lot and speak your mind without any apprehension, then that's the best medicine for a healthy mind.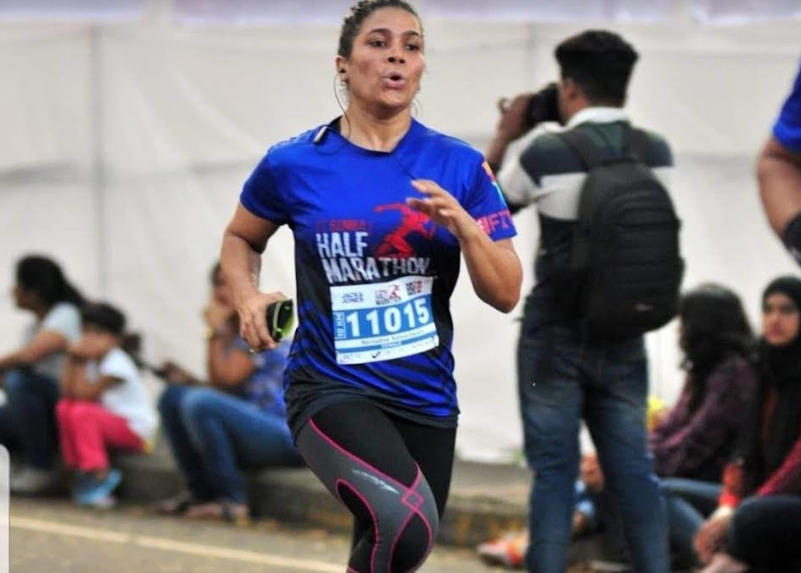 Q 5) What are some of the biggest challenges that you have faced in your career as an athlete? How did you overcome them?
The biggest challenge I faced was leaving my 3 year old daughter behind under someone else's care to go training or attend athletic events. That's the toughest thing to do for any mother. Sometimes, I would carry her along with me to training and would put her to sleep in the car while my sister or my husband, if work permitted, would watch over her while I trained. Juggling motherhood and training was definitely a big challenge.
Q 6) What are some of your future goals as an athlete? How are you working towards achieving them?
COVID-19 had put a stop to my track training, but it did not stop me from pursuing my fitness. I am presently working on strength training to get fitter and lighter. I see myself hitting the tracks soon in the near future.