Teenagers Emma Raducanu and Leylah Fernandez into the finals of the US Open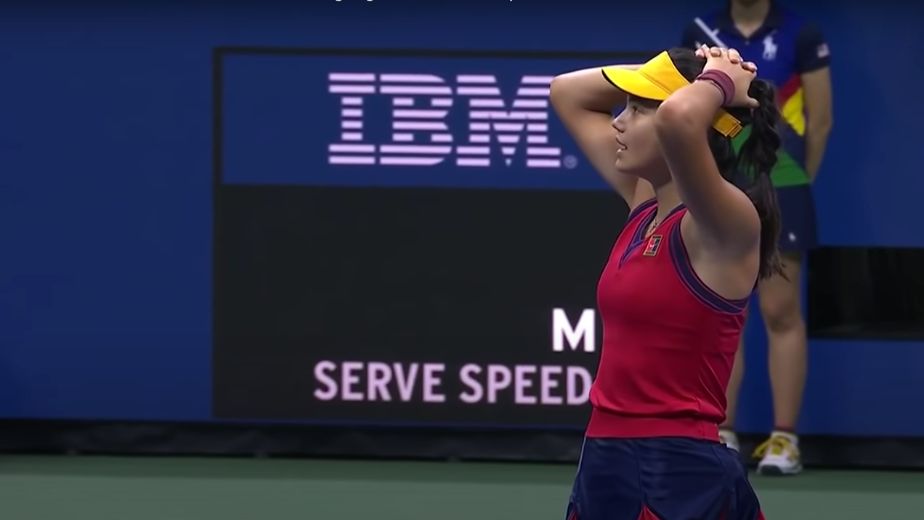 (Tennis News): In Women's Singles, Emma Raducanu showed no intentions of slowing down in her semifinal match against Maria Sakkari. Emma has become the first qualifier to reach the Women's Singles final in the Open era and she has won all her matches in straight games. Maria tried her best with her powerful groundstrokes but it proved futile as Emma somehow managed to get to them and even return with more power.
Raducanu got off to a fine start as she took the first five games and Maria could only watch as the teenager took the set with ever growing confidence. In the second set again Raducanu never really lost control as Maria tried everything. There was a 17 point rally as Maria was trying to hold off a breakpoint at 2-4 and it involved two overhead smashes at the net which Raducanu defended brilliantly even though Maria won the point, it summed up the whole match. Raducanu defeated Maria 6-1, 6-4.
Leylah Annie Fernandez had to reserve her best for the end as she beat Aryna Sabalenka in her semifinal match. Leylah was down 0-3 in the first set but played like a veteran and took it till tiebreak to take the set even though Sabalenka gave her a tough time. The World number 2 was not going to go down against Leylah without a fight as she took the second set, Sabalenka had strong winners to lift up her spirit from time to time.
Leylah at times could not reach some of the groundstrokes produced by Sabalenka as it was a display of raw power. Although Sabalenka kept hitting powerful strokes it also brought many unforced errors which gave the teenager a hold of the match. Leylah defeated Sabalenka 7-6(7-3), 4-6, 6-4.
Last time the US Open saw two teenagers in a final was in 1999 when Serena Williams defeated Martina Hingis in the final.
Men's Semifinals
Novak Djokovic versus Alexander Zverev
Djokovic and Zvere have played three matches this year with Djokovic leading 2-1. But in their last meeting Zverev pulled off a historic victory against the World number one. All of their matches have gone till the final set this year and Djokvic is the favourite to win the clash against young German.
In this year's US Open Zverev has only spent 8 hours on the court and Djokovic has spent over 12 hours on the court. The time difference will play a major role even though Zverev will be getting two days and Djokovic will get one day rest. Zverev wil try breaking the Serb physically and also try getting into his head. Djokovic showed visible frustration against Pablo Carreño Busta in the Bronze medal playoff even smashing his racket in the court.
Zverev will try to repeat what he had done in the Tokyo Olympics and if he does will be one of the biggest upsets in tennis history. Djokovic has been invisible this year and stopping him in the Grand Slams is a tough task especially on hardcourts, he has had slow starts this time but once he finds his form there is no chance that he can be beaten this time.
Daniil Medvedev versus Felix Auger Aliassime
Daniil Medvedev is one of the most successful players on tour other than the big three over the past few years. He is the first man other than the big three to hold either of the top two spots in the rankings since 2005 and looks to be the next world number 1.Medvedev has won three titles this year with the latest one being the Toronto Open. He also has 40 victories this year and 10 losses, Medvedev was also the runner up in this year's Australian Open where Novak Djokovic prevailed in straight sets. He also reached the quarterfinals of the French Open where he lost to Stefanos Tsistipas, Medvedev has so far only lost one set in the tournament.
Medvedev is a very cool and calm player on the court and he does express his emotions a lot. He has a very unorthodox forehand and backhand which enables him to change the direction of the ball quickly. Even though he is tall, Medvedev moves around the court like a gazelle and also has fast serves. He returns far away from the baseline which has been very effective in recent matches. Medvedev has spent over 10 hours on court and looks to be the favourite.
Felix Auger Aliassime is one of the latest players to have come up in the big stages, he has had a decent year but reached the quarterfinals of a Grand Slam for the first time in Wimbledon. Felix is quick around the court and has a stable backhand which comes to play during long rallies. Felix has spent over 14 hours on court and has had tough matches on his way to the semifinals.
Felix did have a great time in the grass courts but on the hard courts this year he has struggled a bit. But in the US Open he showed that he is ready for big time tennis and will look to preserve as much as stamina against Medvedev, Felix will try to finish the rallies quickly as Medvedev is a baseliner and doesn't come to the net much. The match will be in Medvedev's favour if it goes too long as he has had a similar experience against Rafael Nadal two years back, Felix will try to create more chances early in the match and continue his record breaking run here.
In Men's Doubles, Jamie Murray and Bruno Soares defeated the pair of Filip Polášek and John Peers 6-3, 3-6, 6-4 in the semifinals. In the second semifinals Steve Johnson and Sam Querrey's brilliant run came to an end as they lost to Joe Salisbury and Rajeev Ram. Rajeev and Joe defeated Querrey and Johnson 7-6(7-5), 6-4.
Also read: Novak Djokovic books semifinal showdown against Alexander Zverev at the US Open, Emma Raducanu breaks into the last four