Novak Djokovic starts off with a victory at Paris, Gael Monfils steals the show in opening round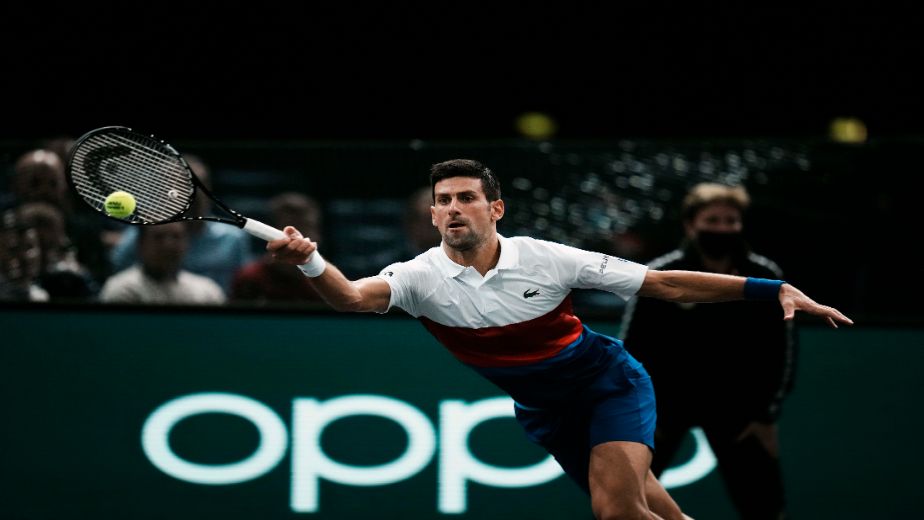 (Tennis news) Novak Djokovic made a winning return on tour with a three set win over Márton Fucsovics at the Paris Masters. Djokovic took no time to take an early lead as his strokes were looking strong as he took the first set, in the second set it was Marton's chance to take the lead as he took some brave shots to take the set. In the final set, Djokovic broke early with a loud roar towards the crowd and broke him again as he won the match. The Serbian defeated Fucsovics 6-2, 4-6, 6-3.
"It was great to be back on the court after almost two months without competition," Djokovic said. "I did not expect anything but I knew this was not going to be an easy match. Marton is a very talented player, he has a lot of quality. It was a great fight. I couldn't break his serve, he was playing with a lot of precision and we pushed each other to the limit. It was a great opening match for me. I am very pleased."
Casper Ruud shook off a rusty start in the opening set to beat this season's ace leader Alexander Bublik. Ruud got a breakpoint in the fourth game with a well played defense as Bublik attempts went in vain but saved the breakpoint to win the game. Ruud took seven consecutive games to take the second set under half an hour and keep his chances of qualifying for the season finale alive. Ruud defeated Bublik 6-4, 6-0.
Gael Monfils' forehand was the winner in his match against Miomir Kecmanović as he kept firing winners which kept increasing by each set. Monfils hit a humongous forehand on his serve which was timed at 190km/ hour and in the match he hit a total of 54 winners as compared to 13 by Miomir Kecmanović. Monfils had a slow start but in the final two sets he simply swung the racquet as hard as he could to march on to the next round. Monfils defeated Kecmanović 4-6, 7-5, 6-3.
Carlos Alcaraz Garfia once again made good use of his endurance as he rallied on to beat Pierre-Hugues Herbert in a 39 game three set match. Both the players took at least five games in each set as two tie breaks were needed to settle the scores, Herbert used his serve and volley to win points as Carlos depended upon his baseline play. Carlos also showed off his quick reflex skills at the net as he had to come forward multiple times in the match and found answers to Herbert's angled serves mixed with excellent half volleys. Carlos defeated Herbert 6-7(4-7), 7-6(7-2), 7-5.

"It's not easy to play against a home player," said Alcaraz. "I think we played at a good level and it was a great match, so I am happy to win. He has a great serve, so I had to return better and remain focused. I think that was the key. I am playing at a good level and I want to finish the year strong.
In men's doubles, Joran Vliegen and Sander Gillé scored a straight victory over Máximo González and Simone Bolelli in their opening match at Paris. Joran and Sander defeated Maximo and Simone 7-6(7-2), 6-4. Joran and Sander had won the title at Singapore in the beginning of the season and were runners up at the BMW Open. They will next face top seeds Mate Pavić and Nikola Mektić in the round of 16, the pair had met them last time in the semifinals at Madrid where the top seeds won in straight sets.
Arthur Rinderknech and Benjamin Bonzi also recorded straight victories over Stefanos Tsitispas and Aisam-ul-Haq Qureshi. Qureshi had reached the quarterfinals in Moscow while partnering with Rohan Bopanna but this time he had to depart early. Arthur and Benjamin defeated Stefanos and Qureshi 7-6(7-3), 6-4.
Also read: Dominik Koepfer pulls a stunner against Andy Murray at Paris, Sebastian Korda eliminates Aslan Karatsev