Casper Ruud beats Andrey Rublev for semifinal spot at Nitto ATP Finals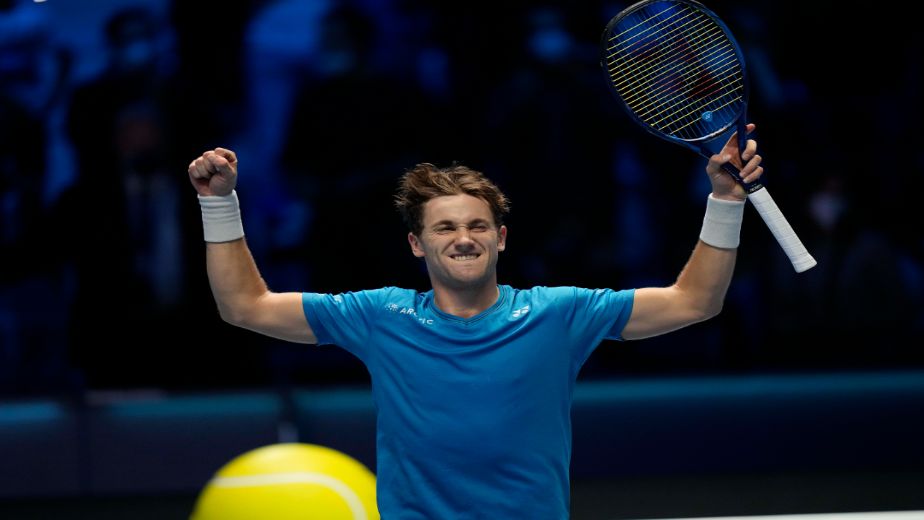 (Tennis news) Casper Ruud made most of his debut at the Nitto ATP Finals as he came back from a set down to secure his first win against Andrey Rublev in their fifth meeting. Rublev started out well by breaking Ruud from the start as he took the first set and looked in form. In the second set, Ruud started unleashing forehands which even overpowered Rublev's strokes as he threw his racquet after losing the second set.
In the final set, Ruud took the first break with an absolute controlled defense as he returned a smash by Rublev in the 7th game. Rublev came back quickly and had a breakpoint in the 11th game but could not take the lead as Casper held his serve as the match went for a tie breaker. Ruud started off well in the first few points and was leading by two points but Rublev's attacking shots kept him in the closing distance. Casper with some well set up volleys reached matchpoint and finished it with an ace to reach the semifinals. Casper defeated Rublev 2-6, 7-5, 7-6(7-5).
Novak Djokovic joined Daniil Medvedev as he finished unbeaten on the group stage. Djokovic defeated Cameron Norrie in the final group stage match of the event, the Serbian only dropped three games on his way to maintaining a perfect record. Norrie had come as the second alternate for Stefanos Tsitsipas and lost both of his matches in the event to confirm his exit well before this match started. As for Djokovic he was already in the last four but did not give any chances to the left hander who had won his first Masters 1000 event at Indian Wells this year. Djokovic defeated 6-2, 6-1.
In doubles, Pierre-Hugues Herbert and Nicolas Mahut defeated Jamie Murray and Bruno Soares 6-3, 7-6(7-5).
Rajeev Ram and Joe Salisbury entered the semifinals with a win over Juan Sebastian Cabal and Robert Farah. Joe made some superhuman efforts to hit the ball back in the opening set as the par broke Cabal and Farah in the 12th game, the second set saw Cabal and Farah hitting back at the US Open champions to level the score. The final set saw an exchange of skills but it was Joe all over the place as he put the ball back in from a smash and finished the match on the first matchpoint. Rajeev and Joe defeated Cabal and Farah 7-5, 2-6, 11-9.
Also read: Casper Ruud and Andrey Rublev battle for semifinal spot at Nitto ATP Finals, Daniil Medvedev makes it three out of three