Apeksha Fernandes breaks long-standing record in 200m butterfly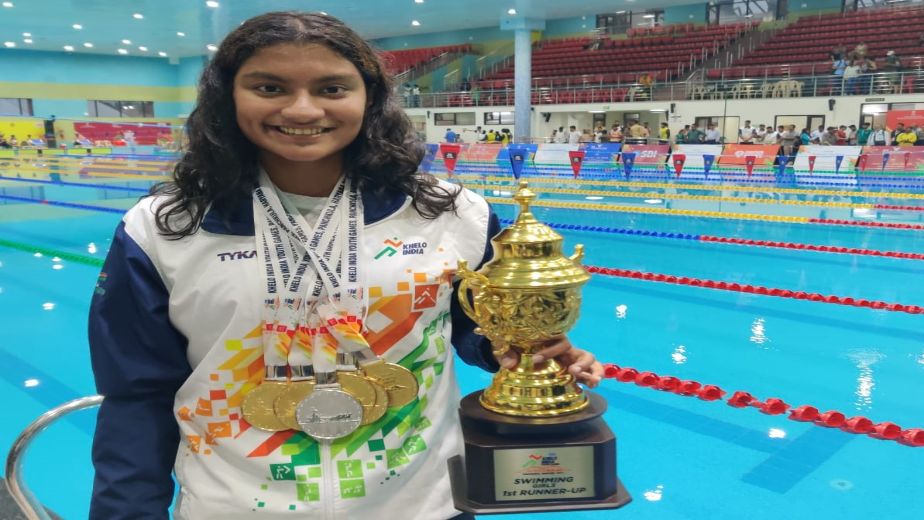 It's fair to say that Apeksha Fernandes isn't chasing records, it's the records that are chasing her. The 17 year old made history once again by winning the 200m gold medal, clocking a time of 02:25.18s, a new meet record. She was significantly faster than her closest competitor Disha Bhandari (2:28.58s) while Manavi Verma of Karnataka (2:29.73s) finished in third place. If that's not all, she's now setting her sights on the Junior Nationals in July and is aiming to qualify for the FINA World Junior Championships.
In this exclusive interview, Apeksha Fernandes speaks about her preparations leading up to the tournament, accomplishments at the Khelo India Youth Games, breaking the 200 metres butterfly record, her competitors and her future goals.
Q 1) Tell us about your preparations leading up to the Khelo India Youth Games?
This time's prep was very limited as I had been travelling a lot more than training. I departed for France for the ISF Gymnasiade on May 12th, after which I raced at Canet-en-Roussillon for the Mare Nostrum swim circuit. We returned home on June 1st after which we had to head over to Pune on the 3rd for the Maharashtra state trails. Jet lagged and tired from all the travelling, I rested the whole of June 5th, trained for two sessions on June 6th and flew out to Ambala on the 7th. Before my races at KIYG, I swam a total of only 4-5 sessions, so these races were more of a mental challenge. But my mom and I have this understanding of never backing down from challenges after we've accepted them, so we were set to race and take the results as they came.
Q 2) Did you believe that you could win 4 gold medals in the individual races, a gold and silver in the team relays? Which amongst them was the most difficult to achieve and why?
If I have to be very honest here, foreseeing this time's results was not really possible given my limited time in the water. So to answer your question, no, I had no idea that I'd be coming back home with 4 golds in my individual races. All the individual events were challenging in their own way, so I can't exactly point out to only one being the most difficult but I'd say that the 200 metre butterfly was a race I'd mentally planned well before swimming it. It was a race I'd spent some time on before I walked into our call-room for reporting. I guess the Indian best timing was the biggest surprise and the most successful outcome of the plan.
Q 3) How was the feeling of breaking a long-standing record that has existed for 10 years in 200 metres butterfly?
I had literally no idea that I had been going against the clock for this one. By the way I had planned the race, I was only focused on actually finishing it. After I had glanced at the display, I was so speechless and squeaked, "Oh my god, Indian best" to myself. I was drained, my muscles aching and mouth drooling after that long race but the excitement just seemed to extinguish all that exhaustion, so I ran to my mom and enveloped her in a big, bear hug and did the same to my dad and coach. My best had always been 2:21.52 for a very long time and 2:18.66 seemed like a long way to go. It was unbelievable that I had actually broken such a longstanding record without even having any intention of doing so.

Also read: Rising swimming star Apeksha Fernandes is one to watch out for!
Q 4) What did you feel about the level of competition at the event?
It's the same competitors I met last year at the Junior Nationals in Bangalore along with the next generation of talented swimmers, so it felt nice to be back, racing with India's best swimmers and reuniting with friends. At the call-room, we're individual swimmers, focused on only ourselves and our races. Everyone comes there with the goal of doing well. We've all spent months training for that event, so at the blocks, it's "may the best win." In some races I win, in some I don't, but it's something I've learnt to embrace: the victory with a smile and the defeat with the same smile.
Q 5) What is your next goal in your swimming career? How are you working towards making it a reality?
We're now focused on Junior Nationals that are going to be held in Bhubaneshwar from July 16th to 21st. This time, I'm aiming to better all my timings and qualify for the FINA World Junior Championships.