Putting the Indian flag on the Inline Skating World Championship podium is something I'm proud of - Indian skater Anand Velkumar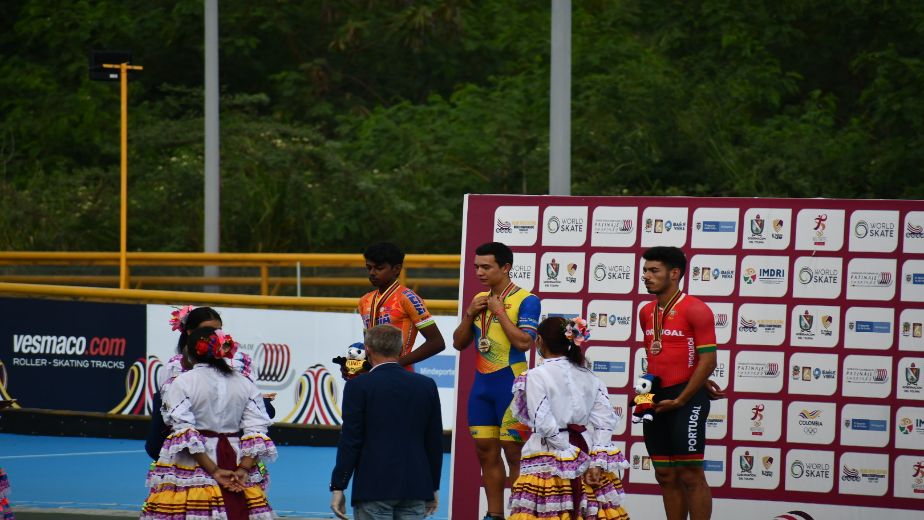 Tamil Nadu's Anand Velkumar made history at the Inline Speed Skating World Championship by becoming the first Indian in history to win a silver medal. His timing of 24.14.845 seconds was enough to earn him second place at the Junior 15 km Elimination Final, narrowly missing out on the gold medal which was won by Colombia's Miguel Ricardo Fonseca but comfortably ahead of Portugal's Marco Lira who finished in third place.
In this exclusive interview with SPOGO, the youngster spoke about his motivation to pursue a career in skating, the experience of winning a silver medal at the World Championships, becoming the first Indian to manage this incredible feat, overcoming challenges in his career and future goals.
Q 1) When did you begin skating and what motivated you to pursue a career in this sport?
I started skating when I was 6 years old, it was a recreational activity at first and as I started winning medals regularly, reaching the state and national level, it was then that I began to pursue it professionally.
Q 2) You recently won a silver medal at the Inline Skating World Championships, what was that experience like and how proud are you of your achievement?
It was an amazing experience to represent the country and race with so many skaters from around the world. Being able to put the Indian flag on the podium is something that I'm extremely proud of.
Q 3) You're the first Indian to win a medal at the Inline Skating World Championships, why has nobody before you managed to accomplish this?
Indian skating has slowly been improving constantly over time, a lot of skaters have come close to a medal in the past, their performances have also been a stepping stone to this medal for the country.
Also read: Esports should be held in the same regard as other sports - Former esports athlete Sudin Dinesh
Q 4) What are some of the challenges that you have faced in your journey so far? How did you overcome them?
One of the biggest challenges I have faced was managing my education and skating career and I recently finished my 12th grade this year. In 2019 I didn't get selected to the Indian team and wasn't able to compete at the international level which was also a difficult setback to overcome.
Q 5) What do you think needs to be done to get more Indians to participate in roller sports?
The government needs to support skaters and the Roller Skating Federation of India (R.S.F.I) more, the sport needs to be included in the Olympics and medals like these will also help promote the sport.
Q 6) What are your goals and ambitions for the future? How do you plan to accomplish them?
I'm training for the Asian Games selection trials happening this year in December, if I get selected I will target the Asian Games that will take place in China from September 2022 and plan accordingly with my coach Sathya Moorthy.