I hope we can reach more people with the power and spirit of rugby - Paul Walsh MBE, Founder and Managing Trustee at Jungle Crows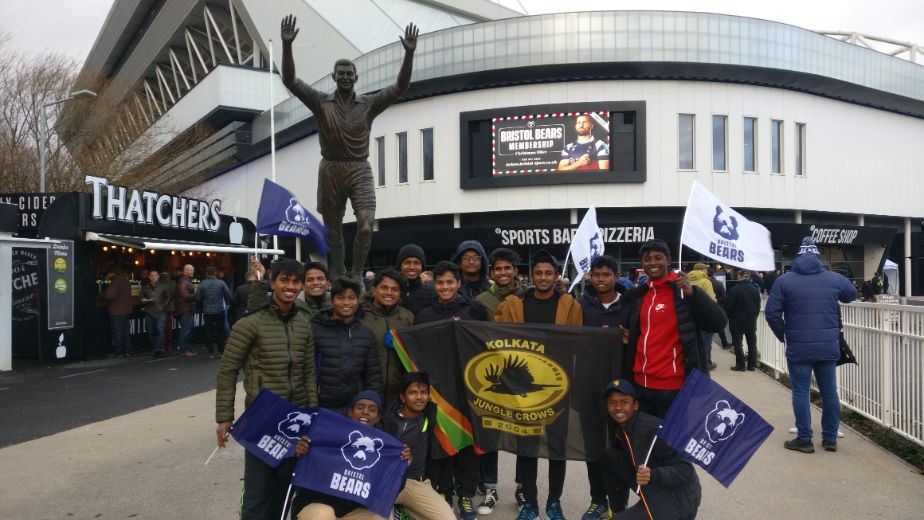 Rugby in India is a sport that is steadily developing and Indian athletes are constantly making a name for themselves in the sport, both domestically and around the world. While rugby might still have some way to go to be considered a 'mainstream' sport in the country, those working behind the scenes are dedicated to raise the standard of rugby, right from the grassroots and are building a solid foundation for a sustainable rugby ecosystem for years to come.
In this exclusive interview with SPOGO, Mr. Paul Walsh MBE, Founder and Managing Trustee at Jungle Crows Foundation speaks about the recent partnership between Bristol Bears and Kolkata Jungle Crows, the role of British actor Stewart Wright, grassroot development, the impact of the partnership and long term benefits.
Q 1) What will the partnership between Bristol Bears and Kolkata Jungle Crows bring to the rugby ecosystem in India?
I am thinking about this in two ways - the first is perhaps obviously, the benefits the partnership will bring to the Jungle Crows and the second is how we can work for this to support rugby in India more generally. We have to get down to some detailed discussions but one area of the partnership that is particularly exciting is how we can tap into the very excellent Bristol Bears Academy. The Jungle Crows coaching at grass roots is what we all enjoy so much, so improving and developing our skills and systems will be a top priority for us. Of course this will all be online for some time yet, but let's see where it leads.
Q 2) What role did Bears' season ticket holder and Bristol actor Stewart Wright have in making this partnership a reality?
Stewart basically made the partnership happen. When he completed the film "Jungle Cry" this became a mission for him. It is difficult to get the attention from a team as busy and focused on performance as the Bears. Through various connections and reminders, Stewart was eventually able to discuss the partnership with the right person, have it agreed by the Bears board and from then it all moved very quickly.
Q 3) What does a partnership of this nature do for the grassroot development of rugby in India?
Well we hope it continues to improve and grow grassroots rugby and give other clubs something to aim for themselves. Just having media attention is so helpful in its own right, it gives young players a big boost. We want the partnership to develop so it isn't just about the Jungle Crows but supports rugby communities across the country. That's the challenge.
Also read: Rugby has completely changed my life, it's a misconception that rugby is a very difficult contact sport - Sandhya Rai, Rugby player
Q 4) How much of a boost will this partnership have on the national men's and women's rugby team in India?
I think the ecosystem of any sport requires inputs at all sorts of levels. The India under 18 women have just won the silver medal in Asian 7s in Tashkent. These are our top young athletes, trained in excellent facilities provided by KIIT University in Bhubaneswar, coached by Ludwiche, an excellent South African Coach, but to make this happen needs a foundation and a pipeline of talent coming through. If the partnership can play a part in developing this talent then we can have a positive impact on how the national team performs.
Q 5) Sport has the power to uplift entire communities, do you think this partnership can have a transformational impact on the lives of others?
For me the community connection with the Bristol Bears is a fundamental part of the partnership. As their mission the Bears have "To inspire our community through rugby success." The Jungle Crows have always been like a family, with all the ups and downs that it involves. I've been fortunate to see some of the transformations rugby has had on young people, all over the world. I am hoping we can do more and reach more people with the power and spirit of rugby.
Q 6) What are some of the long term benefits that you can see as a result of this partnership?
For me I'd hope that the Bears can become a sort of mentor to the Jungle Crows. Whether in business, life or in sports, having a mentor brings real benefits. It will give us confidence, help us to figure out strategies, and of course mean we play better rugby. It is worth saying here though, that this isn't a one way street and it is important we also bring some benefits to the Bristol Bears. We have some ideas around this that need to be developed and we've plans to be worked out, but this is a great start!