At just 16 years old, Indian athlete Yuv Vora is one of the hottest prospects in athletics right now. He won the gold medal at the Student Olympics Nationals held in Haryana and in the 100m and 200m category in the State Meet. He broke a 23 year old record at an MSSA event, broke a 50m record at YMCA, broke Sports For All records in the 100m and 200m category. He has also won an award from Abhinav Bindra and won championships at Wellington Gymkhana and AISM as well.
In this exclusive interview, he speaks about his athletics journey, special achievements in his career so far, overcoming challenges, importance of mental health, his sporting idols and his future goals.
Q 1) How did your athletics journey begin and what motivated you to pursue it professionally?
My journey began at the age of 4-5.. I didn't run that much, just on sports day and in the P.E periods. When I was in 4th standard I met Firoz sir and he told my mom in one of the open houses that I run well. At the beginning I wasn't that serious and I would practise when I wanted. Slowly I started getting more serious.

Q 2) You have broken records at events conducted by the MSSA, YMCA and SFA and have won gold medals at various championships. Which is the most special achievement of your career so far?
The first record I broke was a pretty special one as it was a 23 year old record. Six months ago my coach had told my mom that I will break the record and that is exactly what happened as I broke the MSSA record. My article had come on the Mumbai Mirror and on the internet as well. That was my favourite race and that time the competition was also good.

Q 3) What are some of the biggest challenges that you have faced in your career so far? How did you overcome them?
I'm a very stiff person and I'm not flexible at all which is why I get injured very fast. I've had a heel injury which lasted 6-7 months then my groin injury lasted 6 months. The injuries have spoiled two of my main seasons. Now that I have my boards it is difficult to manage studies and athletics at the same time.
Also read: My success as coach is because of my players: Indian wheelchair coach Manish Sharma

Q 4) How important is mental health to compete at the highest level? How do you prepare yourself physically and mentally before a big event?
Mental health plays a very important role for athletics. I would say to reach the next level you need to be not only physically strong but also mentally. We are competing against top athletes and we know that physically they have been working for a long time on their physical strength but your mentality before a race is all on you. Initially I didn't know the importance of mental health but the older I grew the more I understood the importance of mental health. Before any competition I talk to myself and mainly I visualise myself running the best race.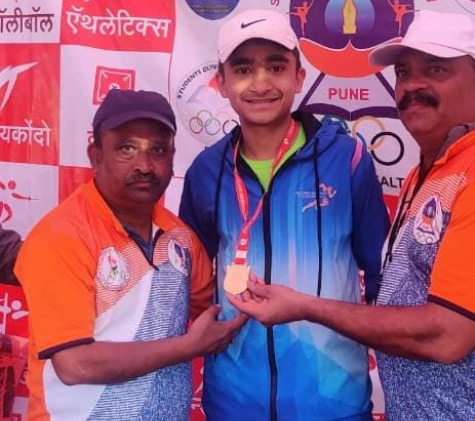 Q 5) Who were some of your sporting idols growing up and why?
The sporting idol that I always followed was Usain Bolt. He has been my sporting idol ever since I started athletics at a young age. His composure before a race and the ability to do that consistently for 10 years straight is quite admirable. I met the world's second fastest man in Yohan Blake at an event which was a very special moment for me. I dream and aspire to reach Usian Bolt's level someday.
Q 6) What are your future goals as an athlete? How do you plan to achieve them?
Short term goal is to represent Maharashtra and the future goal is to win an Olympic medal for the country. As of now I want to break the national record and I want to train harder for that. I want to reach my goal of winning an Olympic gold medal for India.