Whatever I have achieved is because of my process - Indian cricketer Atif Attarwala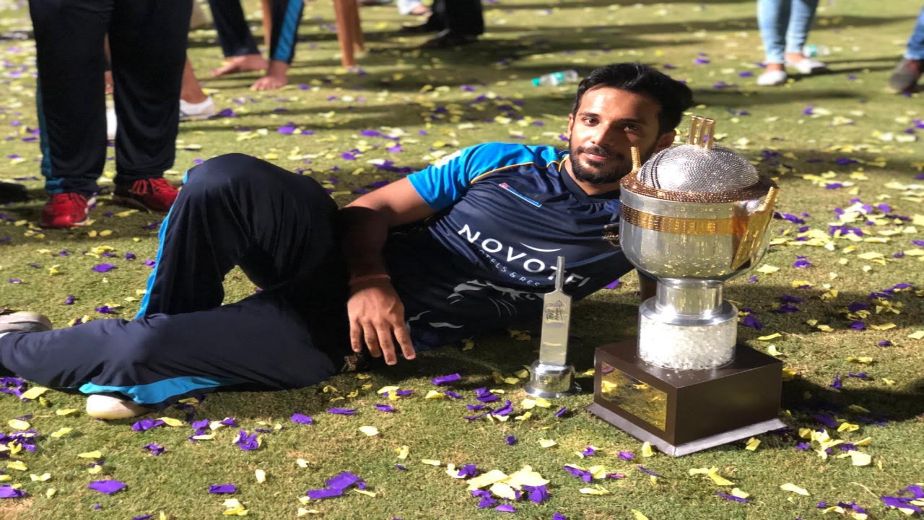 Having made his T20 debut for Mumbai in the 2019-20 Syed Mushtaq Ali Trophy, Indian cricketer Atif Attarwala is now in his third season with the state and is setting his sights on a place with the national team as well as the Indian Premier League. In this exclusive interview with SPOGO, the 29 year old spoke about his cricketing journey, representing Mumbai in the Syed Mushtaq Ali and Vijay Hazare Trophy, adapting his strategy based on cricketing formats and his future goals and ambitions.
Q 1) At what age did you start playing cricket and what made you choose it?
I started playing cricket during my teens in school. There was a tournament in school where a few players of the winning team were considered for the school team. During that time in Boisar, I played well in the tournament and my school coach called me to the practice nets and told me to bowl a few balls. I bowled in my uniform, the coach then told me to come regularly with full whites and shoes.
That was when my journey started with the school team, we used to practice in a place in Tata Steel that was 9 km away from my place so we had to go there everyday but my family did not know that I was in the school team because we had a bit of financial issues. I was good at academics and they wanted me to get a good job but destiny had other plans for me.
Q 2) How has your experience been while playing for Mumbai in the Syed Mushtaq Ali Trophy and Vijay Hazare Trophy?
I am very grateful to the Mumbai T20 league as my performances in the tournament gave me a chance in the Mumbai team at the Syed Mushtaq Ali Trophy. Before that I had played in various age categories for Mumbai but the T20 league gave me the breakthrough and there is a lot of competition as you tend to play with tough opponents. There was pressure playing in front of such a huge crowd but it prepared me to play in the next stage. When I made my debut in 2019 at the Syed Mushtaq Ali Trophy, I felt like grabbing the opportunity because I had been working hard for the last 13, 14 years and in Mumbai you have to grind it out everyday to get a chance to play for the team.
It's been an honor to represent Mumbai and this is my third season with them. On the match day, I didn't find out until the morning that I was going to play for the team until Suryakumar Yadav told me 15 minutes before the toss. I was getting ready in the dressing room and for a minute I went blank but it was a good move by the captain because I would have been under pressure from yesterday. I am happy that I made my debut under him and thanks to all the earlier experience I was able to execute my plan from the beginning.
Also read: My aim is to achieve small targets and help my team in every possible way - Indian cricketer Shubham Ranjane
Q 3) How does your strategy differ as a bowler in One days and T20s?
In T20s the game is very fast and there is very little margin for error. The batter goes after you from ball 1, so you have to bowl all the balls in the right areas at any stage of the game. The T20 game is very short and anybody can attack you on a given day. In One days there are two new balls, one from each end so you have a better scope of picking up wickets. The batters also tend to start slow and take their time in the 50-over format. Even though the length differs ever so slightly, the basics of bowling remain the same. You have to bowl stump to stump line and bowl consistently in that corridor and keep the pressure on the batter. You can't bowl any looseners.
Q 4) What are your future goals and ambitions? How do you plan on achieving them?
It's now been 3 years since I've played for the Mumbai team. I always believe in the process, whatever I've achieved is because of my process. Results are important but they come through process. Even though the process doesn't guarantee results, it brings a level of self satisfaction to know that you're on the right path. Every cricketer works hard and wants to play at the highest level. I still have ambitions of playing for India and in the IPL but my process is the most important. You should know where you stand. Everyone has goals but not everyone can play for India. You have you work your heart out and not take things lightly day in and day out. There have been a lot of frustrating moments but I have to always believe in my process. My ambitions are to play for the country and Mumbai. I will continue to selflessly work hard and play for my Mumbai team.