Our goal is to create opportunities for recently retired cricketers - Raman Raheja, Co-Founder and CEO of Legends League Cricket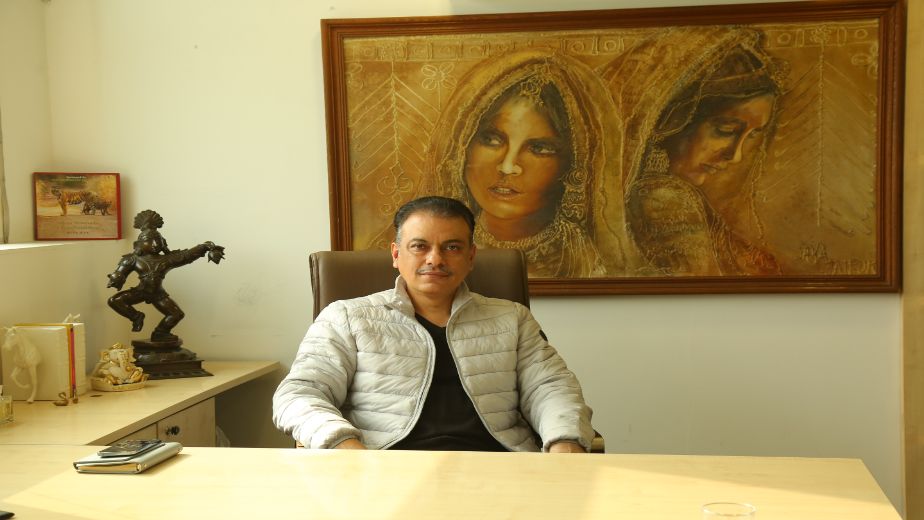 For many cricket lovers, the nostalgia of seeing the greatest sports rivalries from yesteryear is a reminder of what made them fall in love with the sport. Witnessing some of the most iconic rivalries such as Virender Sehwag vs Shoaib Akhtar, Ricky Ponting vs Harbhajan Singh, Gautam Gambhir vs Shahid Afridi to name a few would be an instant nostalgia hit for many fans who closely followed the sport in the 90's and the early 2000's. Legends League Cricket promises cricket fans the prospect of seeing some of the most iconic cricketing rivalries reignited by seeing some of your favourite cricketers back in action.
In this exclusive interview with SPOGO, Raman Raheja, Co-Founder and CEO of Legends League Cricket speaks about his vision and objective for the venture, who will feature in the league, Ravi Shastri's involvement, overcoming challenges, future goals and more!
Q 1) As Co-Founder and CEO of Legends League Cricket, what inspired you to come up with this idea and what is your vision and objective?
Cricket is like a religion in our country and the revenue around the cricket space is driven by these icons. There is so much happening among the active cricketers but the legends of the sport who have a huge fan following are involved in commentary or newsrooms or writing few articles. Some of the former cricketers do not have much fan engagements while some of them still do. While a handful of them are involved in commentary and the rest are involved in the field as a coach or in cricket administration.
We felt there was an opportunity to create a platform where these legends can go back and keep the fans engaged. In today's world fans consume a lot of similar content, so this way we can keep the fans engaged and give these cricketers a second innings in their life. So even for cricketers who are touching their 40's and still have a lot left in them but are not able to make it in the national team. It gives them a chance to engage in other revenue opportunities be it commentary, administration and operations. There are two things, one is about fan engagement and the second is more revenue monetized chances for the former cricketers.
Q 2) With the first season set to be held in January 2022, who are some of the ex-cricketers who will be featuring in the Legends League Cricket?
The first season will start on January 20th in Oman and the plan is to do it twice every year. The second season is expected to start in September, the plan is for the fans to see these legends on the field twice a year and not in the commentary box. There is a tri-nation format consisting of India, Asia and the world. We try to bring in legends who have done a lot for their country.
In the Indian team there are Virender Sehwag, Yuvraj Singh, Mohammad Kaif, Harbhajan Singh, Irfan Pathan, Yusuf Pathan. In the Asian team there are players from Sri Lanka, Pakistan such as Shahid Afridi, Shoaib Akhtar, Misbah-ul Haq, Kamran Akmal, Younis Khan, Mohammad Yousuf, Mohammad Hafeez, Umar Gul, Shoaib Malik. From Sri Lanka there are Tillakaratne Dilshan, Muttiah Muralitharan, Sanath Jayasuriya, Romesh Kaluwitharana and also Asghar Afghan from Afghanistan. Unfortunately we don't have players from Bangladesh as the Bangladesh Premier League will be going on but we have Habibul Bashar who will be part of the commentary team. The world team will be officially announced soon.
Q 3) How much of a boost is it to have Ravi Shastri as the commissioner of the Legends League Cricket?
Ravi Shastri is one of the legends of the sport and has played, seen and administered cricket at the highest level. He has been in this space for the past 40 years; his last last assignment of being the coach of the Indian team saw the team reaching great heights. Shasti's presence has helped in the cricketing aspect, compositions of the team and in the administration side, like when to position the league at an international level. He played a hand in designing the whole plan with us and his TV personality helps us now in having him as the commissioner which all age groups of audience can relate to.
Also read: Judo has given me a new life and I aim to represent India in the Paralympics - Para Judo athlete Priya Keer
Q 4) What are some of the challenges that you have faced in making Legends League Cricket a reality? How did you overcome them?
One of the biggest challenges was that these are all retired cricketers and we had to make sure that we don't get into an exhibition of cricket space instead have active cricket or competitive cricket being played. The physical condition of the players and them being on the field playing competitive cricket and not having exhibition matches was one of the biggest challenges we faced. From the thousands of cricketers that are there we had to identify who are physically fit and actually are playing cricket. We bought in Andrew Lapus who was the first international trainer of the Indian team and has worked with the likes of Sachin Tendulkar and Sourav Ganguly. He was monitoring the players remotely as we shortlisted some players that made the composition of the different teams.
The second problem was that we had to host this tournament when active cricket was going on as you have to see what caters to the audience, so the rivalry part of the game was critical, for examples Shewag vs Shoaib Akhtar, Harbhajan Singh vs Shahid Afridi, Brett Lee vs Jayasurya were the mini rivalry which actually excited the fans all over the world. The biggest challenge that we faced till now is COVID-19, so a lot of things were uncertain as players had to be in bio bubbles and as organiser we had to be extra careful. Initially we had selected Oman because of the less covid cases as they have less restrictions out there. All in all, with the cooperation of all players we are able to conduct this tournament.
Q 5) What are some of the venues and platforms the Legends League Cricket will be broadcasted on? Do you anticipate the presence of fans inside the stadiums amidst the COVID-19 concerns?
Yes, as I said earlier cricket is driven by Indian fans not just out of India but wherever the Indian community is based and is given the most priority. There were a lot of option to look as some of the biggest platforms in India such as Star and Sony approached us but we finally decided on the Sony platform. The league will be broadcasted on Sony Ten 1 in English, Sony Ten 3 in Hindi and Sony Liv as the OTT platform, since the Ashes is going on people are getting aware of the league as it's being promoted during the series. Anywhere in the world we are trying to help the cricket fans to view this tournament. We have made arrangements where cricket fans from remote places can view it on our website llct20.com. There are no restrictions in Oman and the government of Oman is supporting us and will be allowing full capacity crowds as we have built more stands to accommodate more fans.
Q 6) What are your long term goals for Legends League Cricket? How do you plan to accomplish them?
As I said the Legends of League Cricket to primarily to get engagement with these legends or it would be an alternate platform to create more opportunities for recently retired cricketers and officials, so we have decided that we will host this tournament twice an year, outside of that we want to make a lot of content with these retired cricketers as we want fans to engage with them more. We will be producing documentaries and fun shows with these retired cricketers. The long-term goal is to promote the space for retired cricketers as it is a very untapped sector in cricket.