My main goal is to help my country qualify for a World Cup - Malaysian national cricketer Pavandeep Singh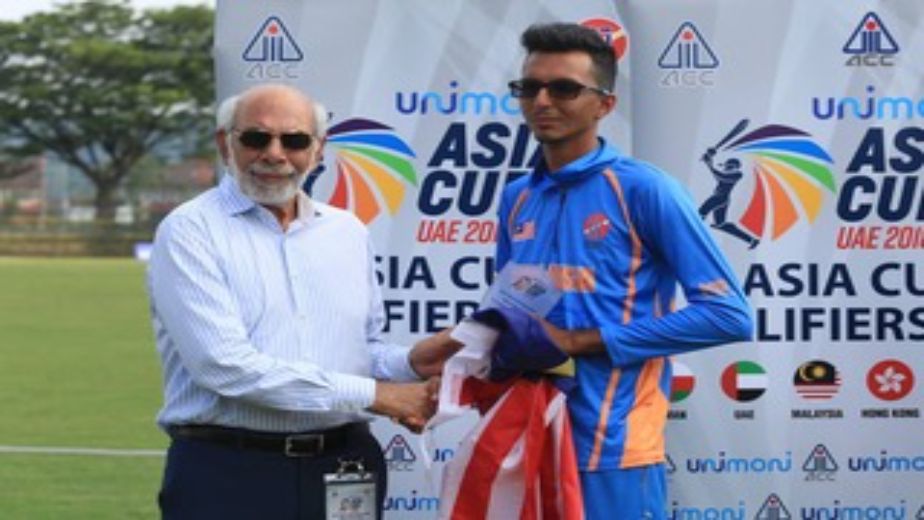 While cricket in Malaysia is still finding its own two feet, the country has its share of talented cricketers who are aspiring to compete at the top level. With passionate supporters and a hardworking team, it seems only a matter of time before Malaysia establishes itself as a cricket playing nation and gives the big names such as Australia, England and India a run for their money.
In this exclusive interview with SPOGO, Malaysian national cricketer Pavandeep Singh speaks about his journey as a professional, his childhood cricketing idols, overcoming challenges, memorable performances, playing alongside his brother in the national team and his future goals.
Q 1) How old were you when you first started playing cricket and what got you interested in it?
I first got involved in the game at the age of 9 at my primary school, Sekolah Kebangsaan Bukit Bandaraya, Kuala Lumpur. Back then it was compulsory for students to play at least one sport as part of the extra curricular activity and since my dad played a little cricket during his school days, he suggested I should give it a try. I had then no clue what the game was about but decided to give it a try and joined the cricket programme at the school held every Monday from 2pm-3pm.
My first cricket coach was Mr Munusamy who taught me the basics of the game and just like every beginner, I first started playing with a plastic bat and tennis ball. A year later, we had a change of coach at the school. A gentleman from Sri Lanka, Mr Damith, was brought in as a replacement. He had a very different coaching style and emphasised more on making training sessions fun. He used to let us play games using alternative scenarios and this really got me involved during training sessions. I started developing a keen interest in the game and he then suggested that my brother, Virandeep, and I join the Royal Selangor Club to start playing with the hard ball and to train more regularly as the club conducted three sessions weekly.
I was soon selected to represent the Kuala Lumpur U15 state team and with good enough performances, was then selected to represent Malaysia U16's. There was no turning back since and I subsequently made my debut for the Malaysian National Team in 2013, at the age of 16.
Q 2) Who was your favourite player growing up and what did you like about him?
Growing up, I was a big fan of the Indian cricket team. I made it a point to subscribe to the sports package on television every time India was playing. My favourite player was and still is MS Dhoni. His ability to hit the ball, especially that trademark helicopter shot just made me a big big fan of his. I truly admire his leadership skills as well his ability to remain calm in any situation. He reads and understands the game well and has the quality to bring the best out of his players. Amongst all his brilliant innings, his 91 runs of 79 balls in the 2011 World Cup final is my personal favourite. I wish to meet the great man one day…
Q 3) What are some of the challenges you have faced in your career and how did you overcome them?
One of them would be finding a balance between playing cricket and studying. It was a big challenge during my school days as I used to be away for months and missed a lot of classes. The only time I would be back in school was for exams. To keep up with the syllabus, I had to do a lot of self studying after matches and training and had to attend tuitions at night. I must thank my parents for always allowing me to continue my passion in cricket and of course my school and tuition teachers as well for always being patient and understanding. As cricket is not a main-stream sport in Malaysia, it is important to have an education as we cant solely depend on cricket to make a living in the future.
Although things are improving and cricket is gaining popularity in Malaysia, I still feel it's important to have an education. I'm currently doing my Bachelor's degree in International Business Management at Asia Pacific University under their sports scholarship. It is a lot easier to balance both cricket and studies now and I must thank the Malaysian Cricket Association for their efforts in securing sport scholarships for National cricketers at the Asia Pacific University.
I think the challenge all cricketers face is having a bad patch. When I'm going through a bad patch, I always try to keep things simple and just remind myself why I actually started playing this game. Just thinking of my love and passion for this game helps bring me back to my zone. Another challenge faced mostly by Associate Cricketers is a lack of competitive matches. The ongoing pandemic has only made matters worse, for us here in Malaysia. We only played four T20 internationals matches last year which is a lot less compared to the previous year. I am hoping things get better this year and we get to play a lot more matches.
Also read: Our aim is to be synonymous with gaming in India - Rahul Bhattacharya, Co-Founder & MD, Microgravity
Q 4) What was the most satisfactory performance in your career so far?
As a team, I would say winning our first ever gold medal at the 2017 Sea Games is one moment that I will remember for a long long time. Playing at our home ground, Kinrara Oval, in front of passionate Malaysian fans just made that moment extra special. If i may add another one, it would be winning the T20 Bilateral series vs Hong Kong here in Kuala Lumpur. Prior to the tournament, we had been struggling as a team but I think we showed some strong character by coming back and winning our first ever T20 international series. Individually, it would be my spell of 3 for 13 in 10 overs vs Hong Kong during the 2018 Asia Cup Qualifier. I was also awarded as the Man Of the Match for that game.

Q 5) How does it feel to play with your brother on the Malaysian side?
It feels great. We both started our cricket journey from the same school, club and even state. In 2012, we made our debut for the Malaysian U16 team together and ended up winning our first ever ACC championship beating Nepal in the finals. The following year, we made our debut for the Malaysian U19 side and soon after we were both playing for the Malaysian National side. I still remember our first senior team tournament together in 2015 which was played in Dubai. Unfortunately, i missed out in the first couple of games but it was the game against Singapore which was our first ever game together for Malaysia.
Having him around really helps as I can always share and discuss a lot with him. In cricket, you always need someone to talk to about your game and how things are going and for me, he's always the person to talk to. We constantly discuss how we can get the Malaysian team to the next level and improve ourselves as cricketers as well. Recently, he became the first Malaysian ever to be a part of a global franchise league (Everest Premier League). It was a proud moment for all of us at home as well as for the Malaysian cricket community. Having said that, I still believe both of us have a long way to go and we hope to keep playing and performing to the best of our abilities so that we can take Malaysia Cricket to greater heights.
Q 6) What are your future ambitions and what steps are you taking to achieve them?
My main goal is to help Malaysia qualify for a World Cup. We recently heard that the 2024 T20 World Cup will be expanded to 20 teams. Malaysia is currently ranked 30th in the ICC T20I rankings and if we can keep moving up the ranks I strongly believe we will create a strong opportunity for ourselves to qualify for the mega event. Personally, I feel the best way for us to keep improving would be to consistently play competitive matches. Going for short stints overseas to cricket playing nations would also be really beneficial as we will be moving out of our comfort zone and playing in different conditions.
If there's not much international cricket in store for the national team this year, I would most definitely be going abroad, maybe to the UK and Australia to get some exposure. In addition, given the opportunity, I endeavour to be part of a global franchise league and for that to happen I will need to consistently perform for my country. Not many know that I was born in Australia but moved to Malaysia when I was one. I do have plans of going down under to play some good cricket at a higher level. I'm not looking too far ahead but if the opportunity arises then play in the Sheffield Shield or the Big Bash league or other franchise leagues around the world.