My goal is to make India an international force in combat sports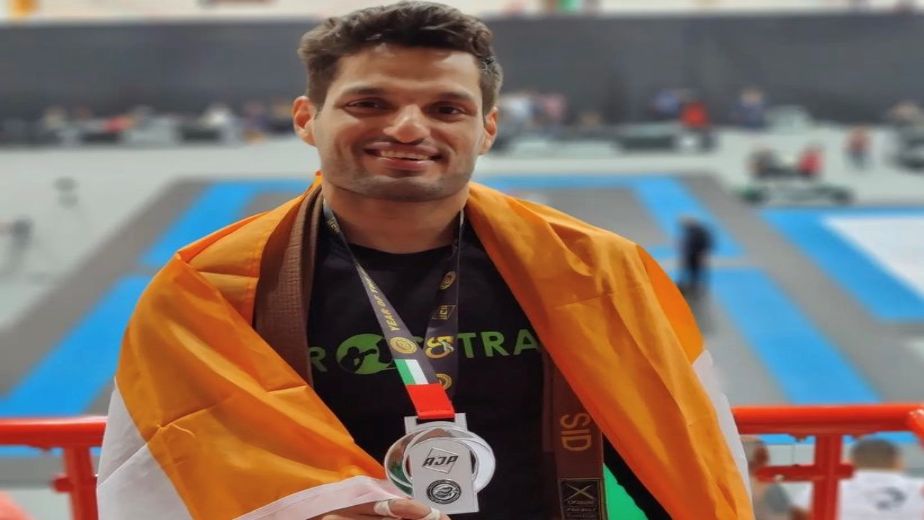 A pioneer of Mixed Martial Arts in India, Siddharth Singh has been the face of the sport in the country in the last few years. He is the only Indian to have a competitive Brown Belt in Jiu Jitsu and is the Founder and CEO of Crosstrain Fight Club, with over 500 students and five academies in North India.
In this exclusive interview, Siddharth Singh speaks about his journey so far, winning the silver medal at the AJP Tour Dubai, memorable achievements, being founder of Crosstrain Fight Club, overcoming challenges, promoting combat sports amongst the youth and his future goals.
Q 1) How did your journey in combat sports begin? What motivated you to pursue it professionally?
I was introduced to combat sports when I went to Doon School (boarding school) at the age of 12, where boxing was a sport and whilst it's not a mandatory sport, my elder brother was an established boxer so in a way it was expected of me to start boxing. I was like any other child at that age, i was scared to get punched in the face and while I picked up decent technique over the 6 years I was at Doon, I lacked confidence which led me to lose my boxing bouts year after year. It wasn't until I was 18 and in my final year of school where I had enough of losing and I made it my mission to become the best boxer in school. I trained year long and won my weight class and was adjudged 'Best Boxer'.
While school ended, the mission to become the best never stopped. I went to the UK for further studies and was introduced to Muay Thai (Thai KickBoxing) and later Brazilian Jiu Jitsu. While I worked at one of the UK's largest fashion and lifestyle companies, during the day I was an executive and in the evenings I was a combat sports athlete. During this time I noticed that no one was teaching authentic MMA (Mixed martial arts) which was and still is the fastest growing sport in the world. I also noticed that there were no Indians competing Internationally in Jiu Jitsu so I decided to dedicate myself towards these two goals.
Q 2) You recently won the silver medal at the AJP Tour Dubai. How was the experience and what do you consider to be your most special achievement in your career and why?
This was my second Jiu Jitsu World Championship Silver Medal on the AJP circuit with the previous one being at the World Masters in 2020. It still feels like a dream come true as my team and I are fully based in India, I am mostly self taught in Jiu Jitsu as India does not have any competition Black Belts. I am a competition Brown Belt and I am the highest in India so I dont have much in the way of teachers that I can learn from. Considering these facts, I'm glad that I have been able to wave the Indian Flag all over the world at the biggest tournaments.
The experience at this year's Dubai Pro was a rough one, to be honest. I was cutting down my weight for the first time in several years to 69 kgs (previously I competed at 77kgs), and this took a massive toll on me both physically and mentally. I didn't eat any substantial food for 4 days leading up to the weigh in and even had to ration water intake with no water the last 24 hours. I missed the initial 'day before' weigh in and had to spend the night before the competition in the sauna room to make the 'same day' weigh in. At 10 am I weighed in at 68.9 kgs and had only 3 hours to refuel and recover before I had to start preparing to compete at 2 pm.
Thankfully I was able to perform up to my ability and was able to bring home the silver at the World Pro.
Other achievements that I'm proud of are the British Open in 2018 as a Purple Belt and ADCC Taiwan champion in 2018.
Q 3) You are also the Founder of Crosstrain Fight Club and ADCC India. Tell us more about them and how are they making an impact in the combat sports/fitness industry?
Crosstrain Fight Club was created to offer authentic MMA and combat sports training and we have been building national and International champions since 2013 in MMA, Jiu Jitsu and Muay Thai. Most of the coaches are my students who have learnt and understood our training systems and are preparing future generations to represent India and make the country proud.
ADCC stands for Abu Dhabi Combat Club and is the world's largest submission grappling tournament. I am the head of ADCC in India. Again, the motivation was to bring an International level tournament to India so we Indians don't have to visit foreigh countries to compete against foreign fighters. At our 3 events of ADCC India, we have already had competitors from Singapore, UK, UAE, Nepal, Sri Lanka, Kazakhstan who have come down and competed against our Indian fighters.
The main goal of Crosstrain and ADCC is to improve the level of Indian combat sports athletes.
Q 4) What are some of the biggest challenges you have faced in your journey so far? How did you overcome them?
Such a difficult question to answer. What I would say is that being a sportsman in India is difficult by itself, now consider the added fact that in 2013 no one had heard of Muay Thai, Jiu Jitsu or even MMA in India, the challenges were immense. I ran through my savings in a couple of years and honestly thought of giving up many many times. God has been kind and we have turned a corner and we have started to see that the sport is starting to grow and become more popular but no matter how bad things got financially, the training never stopped and even during Covid when gyms were shut, I spent hours planning and strategizing ways in which we could come out of Covid even better and stronger as a team.
Today our main centre is bigger and more profitable than we were even in our pre covid best months.
Also read: My goal is to win an International trophy - Karan "Excali" Mhaswadkar
Q 5) According to you, what needs to be done to promote combat sports in India, especially amongst the youth?
We in India see countless cases of rape and violece against women and increasingly - bullying of kids. I strongly believe that we need to introduce combat sports training in schools as this would empower women and educate kids on how to tackle bullies in school or outside. In the UAE, Jiu Jitsu is mandatory in all schools and I believe we as a country would greatly benefit from adding either Muay Thai or Jiu Jitsu in our schools. Many corporations like Google have already started Jiu Jitsu in their corporate offices.
Q 6) What are your future goals and ambitions? How do you plan to achieve them?
I have 3 goals as of now.
- Teach every woman and child in our country, who wants to learn real self defence, so they can honestly protect themselves.
- Make India an International force in combat sports/MMA/Jiu Jitsu/Muay Thai.
- I am a 2 time Silver medalist at the world championships, I want to get the Gold medal for India in Jiu Jitsu.