My family, friends and coaches have been the backbone behind all my victories - Indian Taekwondo athlete Margerette Maria Regi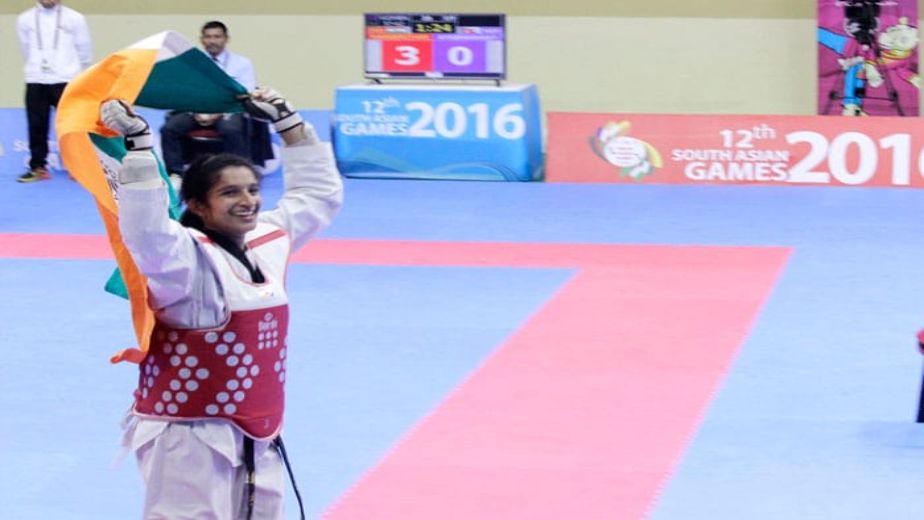 Amongst India's brightest medal prospects in Taekwondo is Margerette Maria Regi. The 24 year old is a five time national champion and has won two gold medals at the South Asian Games so far but has now set her sights on the ultimate stage of them all: the 2024 Olympic Games in Paris. In this exclusive interview with SPOGO, Margerette speaks about her journey in Taekwondo, her accomplishments, overcoming challenges, influences, potential for the sport in India and her future goals.
Q 1) When were you first introduced to Taekwondo and what motivated you to pursue the sport professionally?
I was first introduced to Taekwondo at the age of 14 at a grassroot level program for finding talent which was conducted by the Taekwondo Association of Kerala. Whenever I practiced Taekwondo, it improved my self confidence and I found it interesting because of the discipline required to excel at the sport. I also got a lot of support from my family and my coach.
In 2012, I was selected by the Sports Authority of India, LNCPE Trivandrum. At SAI, I received training under Balagopal sir and Kanon Bala ma'am which helped me improve both physically and mentally.
Q 2) You are a five time national champion and have two gold medals in the South Asian Games. Which accomplishment in your career is the most special for you and why?
I believe that behind every medal is a different story. When I was 16 years old I was selected for the 12th South Asian Games 2016 in Meghalaya and faced a Napalese athlete in the final match who was very experienced and a medallist in several international championships. I won by a face kick in the last round and it was an important moment for me as a junior player and I consider it as a key point in my career.
Q 3) What are some of the challenges that you have faced in your career so far and how did you overcome them?
I have faced many injuries throughout my career but I've never given up. I regard the pain I've endured as a motivation to achieve more glory. Injury is a major part of every athlete's life and it becomes a big hurdle to overcome when the focus is on competing for a major championship. During the preparations of the Asian Games in 2018, I tore my Achilles tendon of the right ankle which forced me to drop out from the World Championship as well. It was very difficult for me to accept my situation and the doctors suggested that I undergo surgery or wear a plaster for 6 months with complete bed rest.
After consulting many doctors, I began my treatment under Dr. Ajeesh who specializes in Sports Ayurveda and after three months of treatment and rehabilitation I emerged much stronger than before and won the 2019 South Asian Games in Nepal. There have been many instances where I could have given up but I always remembered my mother's face and it gave me strength to face tough situations and achieve my dream.
Also read: I believe inspiration comes from within and drives you to achieve your goals - Indian taekwondo athlete Kashish Malik
Q 4) Who are some of the most influential people in your career and why?
My coaches, friends and family are some of the most influential people in my career. They have been the backbone behind all my victories and have motivated me to overcome many hardships in my life. My parents are my greatest supporters and mentors. My mother was also a champion and she wishes that I fulfill her dreams.
Q 5) Do you see immense potential for Taekwondo in India, especially for women?
I believe that there are thousands of athletes in every corner of India who have a lot of potential and talent but the lack of opportunities and financial support is stopping them from achieving their dreams. Many national champions are daily wage workers because of the lack of money involved in the sport.
Becoming a champion is difficult, it involves hard work, patience and resilience. I don't want to get involved in the gender issues but I've had to deal with a lot of challenges and negative attitudes from others but I never gave up.
Q 6) What are your future goals and aspirations? How do you plan to accomplish them?
I'm training hard for the upcoming international events and qualification matches for the Olympics. My dream is to win more medals for India and hoist the tricolour at the 2024 Paris Olympics.