Aman Kadyan creates history by qualifying for World Taekwondo Grand Prix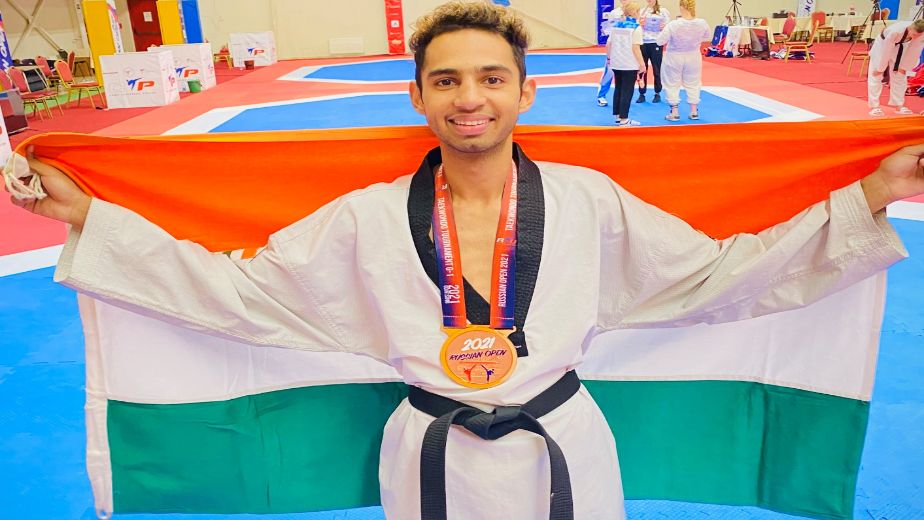 History was created when Aman Kadyan became the first Indian to qualify for the World Taekwondo Grand Prix. The 22 year old will compete in Rome between June 3rd to 5th and will look to not just make his mark amongst the best Taekwondo athletes in the world but also aim to win the tournament.
In this exclusive interview, Aman Kadyan shares his thoughts about the achievement, his expectations from the tournament, how much it would mean for him to win and the role his support system has played in making this dream a reality.
Q 1) You have become the first Indian to qualify for the World Taekwondo Grand Prix, tell us your thoughts about this tremendous achievement?
It was like a dream come true for me. When I used to watch Taekwondo videos, I would dream of representing India. When I started playing professionally I realised that it is possible but it will take a lot of effort. When the moment actually happened it was very shocking for me because I got an email out of the blue. I was standing with my coach after training and I was so excited to show him the email. I went up to him and said that we finally did it. He gave me a tight hug and then my teammates came in and they were very ecstatic. That moment will always be etched in my memory because it came out of nowhere. At first, it was difficult for me to digest it. I also had to check with myself a lot of times whether it was real or not because I thought that this time it will be difficult but somehow it happened.
Q 2) What are your expectations from the tournament which will be held in Rome? Do you believe that you can go all the way to win?
Taekwondo has just got some new rules which make it tough and interesting at the same time. At Rome there will be big names and Olympic champions, it will be a very tough competition as only 32 athletes have qualified for it. I never think that I lack any quality or that I'm any less than the others. I always think that the athletes against me are also just like me. I will try my best to win and I will give my all until the very last second, no matter what the result. I will not be thinking about medals but I will aim to make my country proud by putting in all my effort.

Also read: Everything that I have achieved is largely because of people who supported me - Aman Kadyan, Taekwondo athlete
Q 3) You have previously won medals at the WT President Cup in the Oceania Region in 2019, a gold at the Indian Open International 2019, and a bronze each at the WT President Cup Asian Region 2018 and Israel Open 2018. Will a victory at the World Taekwondo Grand Prix be the most special of your career?
Yes, Taekwondo Grand Prix is a major series and no Indian has gone to this stage earlier, so when this event takes place the whole world tends to take notice of it. If I win a medal then I will get recognised at the world stage and it will also be a stepping stone in my career.
Q 4) How has Peace Taekwondo Academy helped you qualify for the World Taekwondo Grand Prix?
I think that Peace Taekwondo Academy has helped me out a lot but I think in my career two people have been instrumental in my career, Vinay sir and my coach Hassan sir. I think no one has given me as much support as they did. They have always been there for me emotionally, preparing me mentally for various competitions and all. My family also has been a big inspiration for me, supporting me in all matter and mostly encouraging me to perform better.