NBA: LeBron inspires Lakers to an important victory over the Pacers and Warriors grow from strength to strength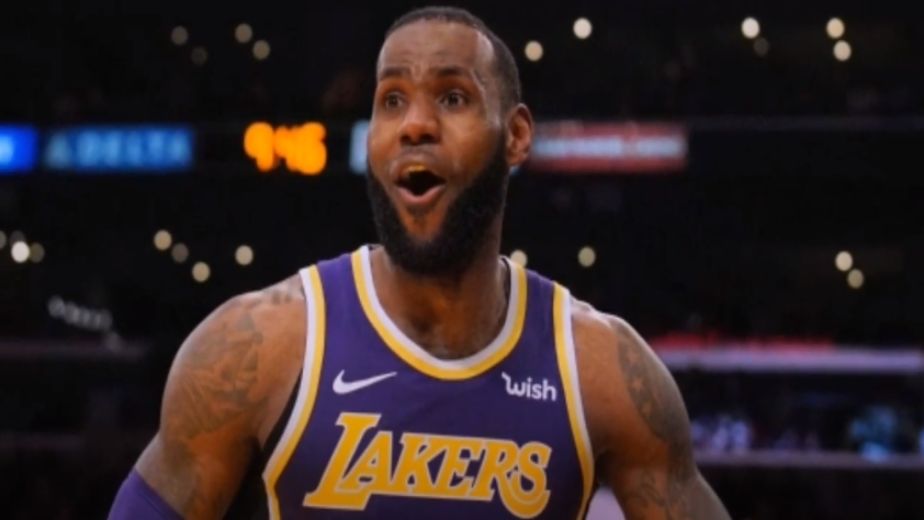 (Basketball news) James delivered tiebreaking and back-breaking 3-pointers in overtime and finished with 39 points to help the Los Angeles Lakers rally past Indiana 124-116. After drawing his first suspension in his career, LeBron James looked like a man on a mission as the Lakers missed Anthony Davis through fever. Russell Westbrook had 20 points, seven rebounds and five assists while Monk had 17 points. Carmelo Anthony and Ellington each added 14 but James was 13 of 29 from the field and had six assists and five rebounds. For the Pacers, Brogdon added seven rebounds, Domantas Sabonis had 14 points, 12 rebounds and six assists while Myles Turner had 12 points, six rebounds and two blocks. LeBron James forced overtime by scoring seven straight points to give the Lakers their 10th victory of the season. With this result the Lakers improved their record to 10-10 as they lie 9th place in Western Conference.
"I know he wanted to get this W,''' coach Frank Vogel said. ''He really wanted to play in that Knicks game, he looks forward to that every year. So to bounce back tonight, to quarterback the defense and carry the offense the way he did, that's just a performance for the ages."
"I was excited about being in the lineup. Me not playing last night on the second night of a back to back, I knew I could kind of give our guys a boost of energy with me not playing last night'' said James.
The Brooklyn Nets defeated the Boston Celtics 123-103 as Kevin Durant scored 21 points to overtake Allen Iverson in the all time scoring charts to enter the top 25 of the NBA's all-time scoring list. Patty Mills scored 23 and James Harden had 20 points and 11 assists for Brooklyn. LaMarcus Aldridge scored 17 points with nine rebounds for the Nets, who have won four in a row, seven out of eight and 12 of their last 14 games. For the Celtics, Marcus Smart had 20 points and eight assists for Boston, which had won three in a row. Jayson Tatum had 15 points and eight rebounds as they tried their best to cut the massive lead the Nets made up in the first three quarters. Next up on the scoring list for Durant is Ray Allen, who has 24,505 points to become the 24th highest scorer in the league.
''To pass him on the list, to end up there with some of the greats on that list is incredible,'' said Durant, who entered the night with 24,367 points, one behind Iverson, and passed him on a jumper in the first two minutes. ''I've just gotta keep going,'' he concluded.
"It's a quality road win against a team that's been playing great basketball,'' Nets coach Steve Nash said.
The Golden State Warriors continued their magnificent start to the season with a 116-96 victory over the Philadelphia 76ers. Stephen Curry and his entire supporting cast in the second-half were defensively very sound to shut down younger brother Seth. Stephen Curry scored 25 points to Seth's 24, and the Golden State Warriors surged back after halftime to beat Philadelphia to make it five straight victories. Juan Toscano-Anderson came off the bench in the second half to score 13 points to go with six rebounds and six assists. Steph Curry shot 9 for 16 with six 3-pointers and added 10 assists as they improved their record to 16-2 which is the best in the league. Steph's younger brother Seth Curry top scored for the 76ers with 24 points and Tyrese Maxey added 19 points for them.
"We were on our heels most of the entire first 18 minutes. Our identity is our defense. We can score with the best of them but we flipped the switch and got stops and made them take tough shots, especially in the second half and turned that into offense,'' Curry said. ''It was pretty impressive just the energy flip that happened after that first quarter".
''We got great performances off the bench from Gary and Juan, two of our better defenders, and the defense led to the offense and the ball started to move because we were in transition,'' coach Steve Kerr said. ''It was a beautiful second half.''
Also read: NBA: The New York Knicks defeated the Lakers and Mavericks needed overtime to defeat the Clippers
The other results were:
Magic 99 - 106 Hornets
Cavaliers 115 - 120 Suns
Pelicans 127 - 102 Wizards
Rockets 118 - 113 Bulls
Timberwolves 113 - 101 Heat
Thunder 104 - 110 Jazz
Bucks 114 - 93 Pistons
Grizzlies 113 - 126 Raptors
Kings 125 - 121 Trail Blazers
The Saturday fixtures are:
Clippers vs Pistons
Magic vs Bulls
Knicks vs Suns
Hornets vs Timberwolves
Grizzlies vs Hawks
Thunder vs Wizards
Pacers vs Raptors
Spurs vs Celtics
Nuggets vs Bucks
Jazz vs Pelicans
Warriors vs Trail Blazers
Lakers vs Kings