NBA: Lakers lose their third successive match in a row as Warriors also lose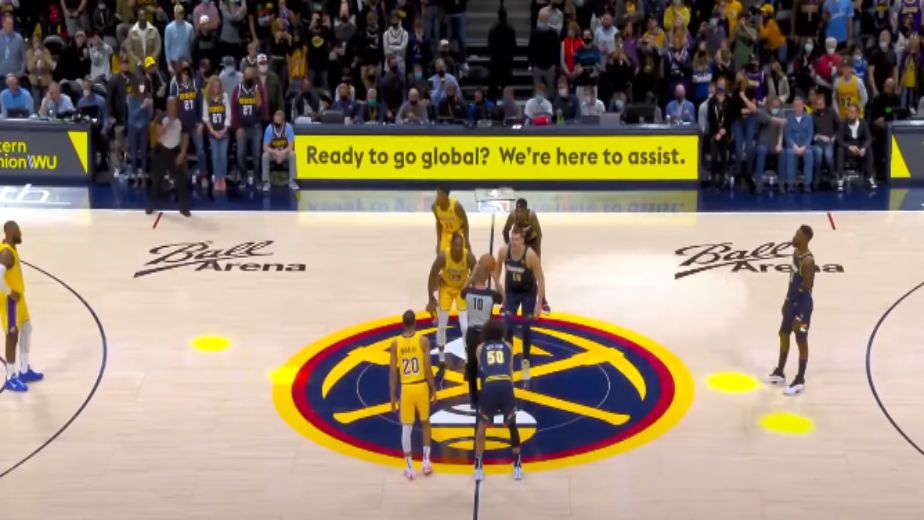 (Basketball news) The Los Angeles Lakers suffered their successive loss as they lost 133-96 to the Denver Nuggets. For the Nuggets Hyland followed up a 17-point game against Portland with career highs of 27 points and 10 rebounds as Nikola Jokic had 17 points, 13 assists and 12 rebounds for his eighth triple-double of the season, while Jeff Green scored a season-high 26 points in Denver's second straight blowout victory. All five Nuggets starters scored in double figures. For the Lakers LeBron James had 24 points and nine rebounds, but made just 9 of 23 field goals. Russell Westbrook, who was just 15 for 59 in the previous four games, had 19 points on 7-of-15 shooting.With this result the Lakers fell below 500 with their record currently at 21-22, on the other hand the Nuggets leapfrogged into 6th in the standings as their stands at 22-20.
''It meant a lot to me. It took some stress off my shoulders and made me relax more and it also made me more comfortable knowing me and Coach have that connection,'' Hyland said
''We've just got to make a decision we're going to play hard,'' Westbrook said. ''Sometimes, the schemes and how you play, it doesn't really matter. You've just got to play hard sometimes. Teams are playing harder than us, so it's as simple as that.''
'Nikola gets a triple-double in 28 minutes, Bones gets his first career double-double, the bench was great, the starters were great,'' Malone said
''We've got to get back to the drawing board and get our defense right,'' Lakers coach Frank Vogel said. ''We haven't performed well enough in the last two games on that side of the ball.''
The Golden State Warriors lost their second game in a row as they lost 119-99 to the Minnesota Timberwolves. For the Timberwolves Karl-Anthony Towns had 26 points and 11 rebounds, Jaylen Nowell scored 17 points and Malik Beasley added in 16 with five second-half 3-pointers on an especially productive night for the reserves for the Timberwolves. Jordan Poole scored 20 points and Jonathan Kuminga had 19 points for the Warriors, who lost for the fifth time in seven games. They missed 16 straight shots over one stretch in the second half as they played without Steph Curry and Draymond Green on Sunday night. With this result the Timberwolves improved their record to 21-22 and jumped into 7th in the Western Conference standings
''We're really close. We like to see each other succeed. That right there is one of the hardest things to find in teams, I feel like,'' Nowell said. ''None of us on the team are selfish.''
''We don't just want be in the play-in game. We want to be set in the playoffs. We're trying to figure out how to get a nice little win streak to get us above the hump,'' Beasley said.
'Got some and-ones, got some layups, utilized my finishing ability. For this team to grow, I have to grow as well,'' Towns said
''You can't trust what I say, because I say I can play 40 minutes, but I'm not a sports scientist,'' Thompson said. ''That's what our training staff is for. I trust them, and I don't want to get over eager in just my fourth game in. I want to peak come playoff time"
Also read: NBA: The MVP race is hotting up as the season heads towards its midpoint
The other results were:
Bucks 96 - 103 Raptors
Wizards 110 - 115 Trail Blazers
Nets 120 - 105 Pelicans
Hawks 108 - 117 Knicks
Thunder 102 - 107 Cavaliers
Heat 98 - 109 76ers
Celtics 114 - 112 Bulls
Spurs 101 - 94 Clippers
Mavericks 108 - 92 Magic
Pistons 108 - 135 Suns
Kings 112 - 118 Rockets
Tomorrow's fixtures are:
Wizards vs 76ers
Cavaliers vs Nets
Grizzlies vs Bulls
Clippers vs Pacers
Hawks vs Bucks
Magic vs Trail Blazers
Heat vs Raptors
Spurs vs Suns
Mavericks vs Thunder
Lakers vs Jazz