Magic pick Pablo Banchero as the no 1 pick in the NBA Draft 2022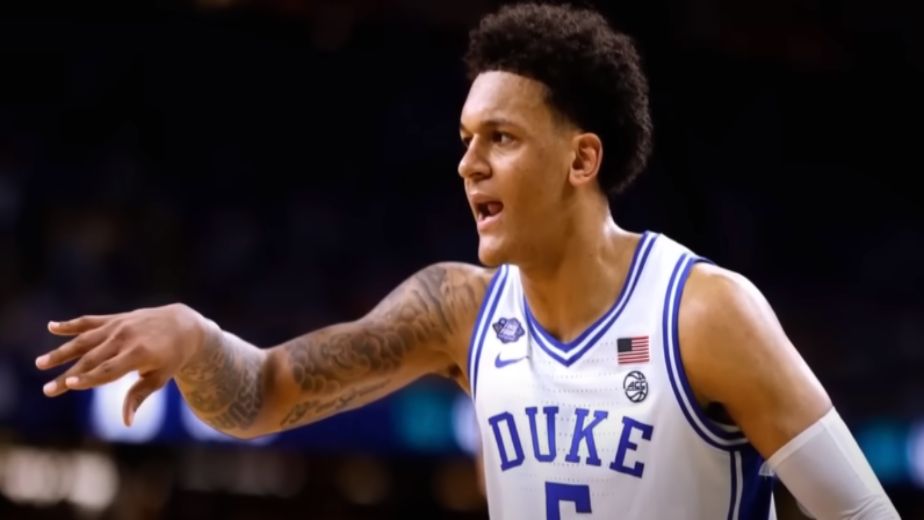 (Basketball news) The NBA welcomed its newest rookies to the league on Thursday night during the 2022 draft from Barclays Center in Brooklyn. There were some surprising selections with Orlando Magic acquiring Paolo Banchero as the top pick. While Jabari Smith of Auburn, who was widely expected to go as the first pick, but he was picked up at No. 3 spot by the Houston Rockets.
Draft night also experienced some trades as the Oklahoma City Thunder made a trade with the New York Knicks for the No. 11 pick and Ousmane Dieng for three future conditional first-round picks. In another draft-day trade, it saw the Detroit Pistons acquire No. 13 pick Jalen Duren and Knicks veteran point guard Kemba Walker in what was a three-team deal. The 76ers reportedly moved Danny Green and the No. 23 pick to the Grizzlies as part of a trade to acquire De'Anthony Melton, which indirectly strengthened their back court
1. Orlando Magic: Paolo Banchero, Duke
The Magic need some help on the offensive end, their team finished last season 28th in field goal percentage, 28th in free throws, 27th in offensive rebounding percentage and 23rd in turnovers. Paolo Banchero is a player who brings all these skills to the table and he can add versatility to the Magic's offense with his physical attributes. He can pass, handle the ball, drive to the basket and finish with some solid footwork. In this draft he was easily the most NBA-ready player among the top five projected picks. Banchero stands at 6ft 10, he averaged 17.2 points on 47.8% shooting from the field, in addition to 7.8 rebounds, 3.2 assists and 1.1 steals in his only season at Duke and was coached by the legendary Mike Krzyzewski' in his final season in charge..
2. Oklahoma City Thunder: Chet Holmgren, Gonzaga
Holmgren has immense potential to become an NBA All star with an impressive all-around skill set for a modern NBA big man nowadays. With his elite rim protection and shot-blocking, he fills an immediate deficiency in the Thunder squad; he acts as an interior defender. He has a versatile offensive game and has shown the NBA scouts that he can handle the ball pretty well, and also shoot from the three point line. Holmgren will need to add strength to reach his peak on offense, but the Thunder can give him time to develop behind their franchise players Shai Gilgeous-Alexander and Josh Giddey.
3. Houston Rockets: Jabari Smith, Auburn
Jabari Smith was widely expected to be the No. 1 pick but instead was selected by the Houston Rockets at 3. He had only worked out for the Magic and the Oklahoma City Thunder in the recent tryouts. This season at the NCAA tournament, Smith averaged 42% on his 3-pointers (5.5 attempts), which could make him at the Rockets. At his size, he is difficult to defend and was subsequently the best defender at Auburn this season.
4. Sacramento Kings: Keegan Murray, Iowa
With the Sacramento Kings already having a point guard in place with De'Aaron Fox, the Kings bypassed Jaden Ivey and picked up Keegan Murray as he is an efficient wing scorer. Murray, who improved significantly from his freshman to sophomore seasons, averaged 23.6 points, 8.7 rebounds and 1.9 blocks per game while shooting 55% from the field and 39.8% on 3-pointers. Murray at the age of 21, is the oldest player to get drafted this year and could have an immediate impact for Sacramento be off the bench or in the playing 5. Like Banchero, Murray is also a NBA-ready player
5. Detroit Pistons: Jaden Ivey, Purdue
Jaden Ivey only worked out for the Pistons and Magic in the tryouts. He uses his speed to get past the defenders, any NBA defender will have a hard time slowing Ivey down in transition. He can explode into the lane similar to Ja Morant and has a similar playing style like him. He is the son of Niele Ivey, the women's basketball coach at Notre Dame and a former women's college champion herself.
The list of first rounds picks are:
1. Magic: Paolo Banchero
2. Thunder: Chet Holmgren
3. Rockets: Jabari Smith Jr.
4. Kings: Keegan Murray
5. Pistons: Jaden Ivey
6. Pacers: Benedict Mathurin
7. Trail Blazers: Shaedon Sharpe
8. Pelicans (from Lakers): Dyson Daniels
9. Spurs: Jeremy Sochan
10. Wizards: Johnny Davis
11. Thunder (from Knicks): Ousmane Dieng
12. Thunder (from Clippers): Jalen Williams
13. Pistons (from Hornets): Jalen Duren
14. Cavaliers: Ochai Agbaji
15. Hornets (from Pelicans): Mark Williams
16. Hawks: AJ Griffin
17. Rockets (from Nets): Tari Eason
18. Bulls: Dalen Terry
19. Grizzlies (from Timberwolves): Jake LaRavia
20. Spurs (from Raptors): Malaki Branham
21. Nuggets: Christian Braun
22. Timberwolves (from Grizzlies): Walker Kessler
23. Grizzlies (from 76ers): David Roddy
24. Bucks: MarJon Beauchamp
25. Spurs (from Celtics): Blake Wesley
26. Timberwolves (from Mavericks): Wendell Moore Jr.
27. Heat: Nikola Jović
28. Warriors: Patrick Baldwin Jr.
29. Rockets (from Grizzlies): TyTy Washington Jr.
30. Nuggets (from Suns): Peyton Watson
Also read: Golden State Warriors clinch their 4th NBA Championship in 8 years