Kyrie drops 60 against the Magic while Suns continue their winning run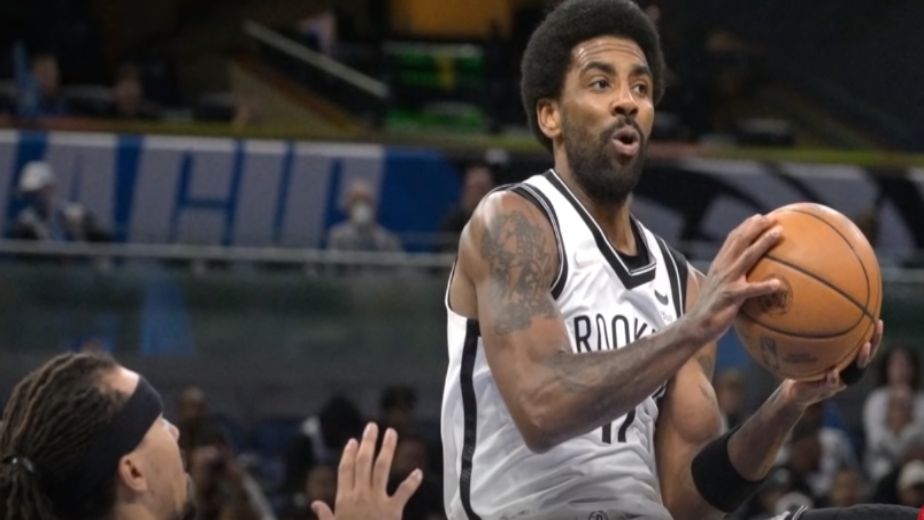 (Basketball news) The Brooklyn Nets are back to their winning ways thanks to Kyrie Iriving who dropped 60 points to lead them to a blowout 150-110 victory over the Orlando Magic. For the Nets, Irving scored a career-high 60 points, most in the Nets' NBA history as he shot 20 for 31, including 8 of 12 on 3-pointers, in 35 minutes. He made 12 of 13 free throws in matching the highest-scoring game in the NBA this season. Irving also scored 41 points in the first half which was the most in the first two quarters since Kobe Bryant had 42 against Washington on March 28, 2003 as Durant added 19 points in the Nets' fourth straight win. For the Magic, Cole Anthony had 19 points and seven assists and Wendall Carter finished with 18 points. With this result the Nets improved their record to 36-33 and sit in 8th in the Eastern Conference standings.
''It just shows you we're on our way to history,'' Irving said.
'The night after Karl Towns had an incredible performance, and then to have Kyrie do it the next night, the league is in an amazing place right now,'' teammate Kevin Durant said. ''We're seeing a lot of talent displayed every night, and this was one of the elite ones.''
''It was just about the team really, just getting in the flow,'' Kyrie said. ''That's the true purity of this game, doing it efficiently on both ends of the floor and coming out with a W.''
''A few shots I probably shouldn't have taken. Tough ones, with double-teams and triple-teams coming,'' he added. ''But as long as I can do it with a smile on my face and my teammates weren't too angry with me, it was worthwhile.''
''There's times he's shooting over two people,'' said Magic coach Jamahl Mosley. ''You try to double-team him, he's smart enough to know when to go and when not to go. He's fast in transition so you can't speed up and try to deny him. They're setting backscreens. He's crafty enough and he's seen every coverage and he knows how to play with a pace. That makes it hard.''
The Phoenix Suns continued their golden form as they beat the New Orleans Pelicans 130-115. For the Suns, Booker capped his 27-point performance with six points in a 33-second span at the end of the third quarter which was crucial in the end for the victory, Deandre Ayton added 18 points and Mikal Bridges went 4 of 5 from deep and scored 20 for them. For the Pelicans, Herb Jones scored 22 as CJ McCollum returned from a two-game absence and scored 21 points, Jonas Valanciunas added 17 points and 12 rebounds. With this result the Suns extended their record to 55-14 and sit comfortably on top of the Western Conference table.
''It's demoralizing because you're right there, you're looking to get over the hump and then he comes down and hits a couple shots like that,'' Pelicans coach Willie Green said.
''More important than making the shot with 33 seconds left was making sure you're taking the shot with 33 seconds, playing the possession game,'' Booker said, alluding to the NBA's 24-second shot clock. ''We've just been stressing on finishing quarters the right way.''
'When they don't miss a shot, it's pretty hard,'' Pelicans forward Jaxson Hayes said. ''They're just hard to match up with.''
We just come together, man. It's fun to be a part of,'' Booker said. ''Just everybody vs. us, just taking that approach to it, just enjoying the road games, just enjoying being the bearer of bad news coming through here. It's something I think that we definitely own.''
Also read: NBA: Lakers lose two in row as the Warriors are back to winning ways
The other results were:
Pacers 102 - 135 Grizzlies
Heat 105 - 98 Pistons
Tomorrow's fixtures are:
Cavs vs 76ers
Wizards vs Nuggets
Hornets vs Hawks
Nets vs Mavericks
Knicks vs Trail Blazers
Timberwolves vs Lakers
Spurs vs Thunder'
Jazz vs Bulls
Kings vs Bucks
Warriors vs Celtics
Clippers vs Raptors