Celtics draw first blood against the Warriors in the NBA Final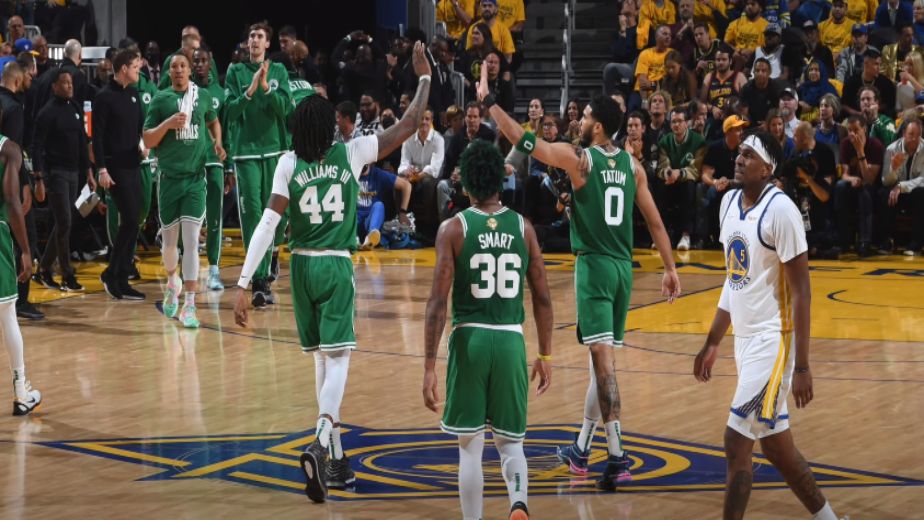 (Basketball news) The Boston Celtics continued their midas touch as they won game 1 against the Golden State Warriors 120-108. For the Celtics, Jaylen Brown fueled the late charge and scored 24 points, Al Horford hit six 3-pointers as he scored 26 points and the Celtics rode the most lopsided fourth quarter in NBA Finals history. In his 15th-year , the big man, who turned 36 played in 141 previous postseason games, which was subsequently the most ever before playing in the NBA Finals. For the Warriors, Curry scored 34 points in his return to the NBA's big stage for the first time in three years as Andrew Wiggins scored 20 points in his finals debut, Draymond Green grabbed 11 rebounds and Klay Thompson contributed 15 points.
With this result the Celtics take a 1-0 lead in the NBA Finals as Game 2 is on Sunday night back at Chase Center. For the first time this postseason, Horford (26 points) led the Celtics in scoring, but it was the efficiency which caught everyone's eye (9-12 FGs, 6-8 3PM) as he trumped all else in his box score. The way Horford sank timely 3s in the fourth quarter, it helped the Celtics apply traps defensively, and it essentially came down to the leadership the Celtics have valued since his return to form this season, which has proved invaluable for the team. It made up for the off Jason Tatum had as he was the lone Celtics regular who struggled offensively, finishing 3 for 17, though he did have 13 assists. Marcus Smart contributed on both ends of the floor as he scored 18 points and put a defensive masterclass on Steph Curry in the fourth quarter.
''I felt like the guys kept finding me time after time. Also Derrick White hit some tough shots there, too,'' Horford said. ''I was just getting the looks, knocking them down. That's that.''
"It's not ideal but I believe in who we are and how we deal with adversity, how we responded all year, how we respond in the playoffs after a loss,'' Curry said. ''So I learned a lot from that fourth quarter, obviously they made a lot of shots. It seemed like they didn't miss 'til deep into the fourth. When you have a team that just finds a little bit of momentum like they did and they keep making shots, it's tough to kind of regain that momentum.''
''It's an unbelievable feeling just to be here and competing at this level against such a dynamic franchise the last couple years,'' Boston guard Payton Pritchard said. ''I think we're all just looking forward to the challenge to go through the series and try to get it done.''
''It's a different feeling. You obviously go into Game 2 with more of a sense of desperation. That's all part of this stuff. We've been in this position before,'' Kerr said. ''Boston played a brilliant quarter. They came in and earned the win.''
Also read: NBA: Boston Celtics reach their first NBA final since 2010