"I am really excited to be going back to Senegal" - Jutta Kleinschmidt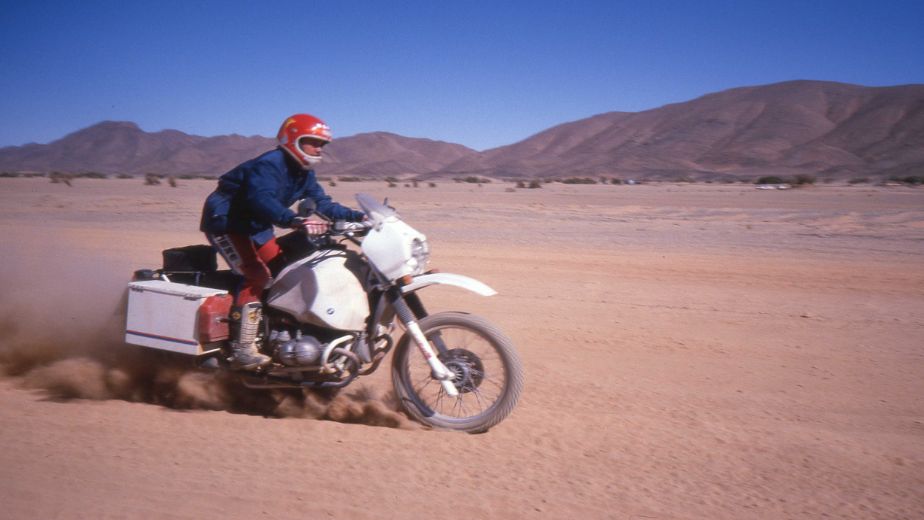 As Extreme E, the innovative off road racing series heads to Senegal for the Ocean X Prix, Championship Driver, Jutta Kleinschmidt in a press release by Extreme E, spoke about her memories of Dakar and the why the champion driver is looking forward to going back to the place where it all began…

"From the age of six, I had only two obsessions; speed and adventure," Jutta Kleinschmidt, the first and only Women champion of the infamous, challenging and as the very terrifying, Dakar Rally.

This sense of adventure, along with riding off-road motorbikes, while growing up, paved the way for Jutta to turn up, uninvited, in 1987 to the start line of the Paris to Dakar Rally, not as a participant, but as a follower. This intrepid young woman, for 3 weeks, tagged along behind the official race, riding her motorbike 10,000km through France, Algeria and then the formidable Sahara Desert to Senegal to the wonderful Lac Rose.




Every night, the champion driver would finally appear at the bivouac (camps), tired, relieved and with her tent still just about strapped to her motorbike.

Jutta explains, "By following the rally that year, my aim was to see how it was and I was just so pleased to reach each bivouac each night in one piece, this was one of the biggest adventures for me because I was completely on my own without any technical support."

She continues, "In a way it was crazy what I did. This was a long time ago, so we didn't have GPS or mobile phones or any of that…so, if you got lost, you are really lost and there's no connection at all to civilization. But I made good friends with the competitors - the teams were all really nice - they supplied me in the Bivouac with spare fuel if they had it and even food and also promised to send someone to find me if I didn't show up at night!"

Having made it to the finish and now with her appetite truly whetted, Jutta entered the rally, officially this time, in 1988. Some years later, and with sponsorship gained through her time in motorbikes, she made the switch from two wheels to entering her first Dakar in a car in 1995 in a female team with co-driver Dagmar Lohmann. When asked what prompted that change, Jutta explains, "I felt like I had done what I wanted to do on bikes, and it came to a point where I wanted to do more and try in a car. I managed to convince my sponsors to continue with me in the change to cars."

And it was at this point where Jutta felt she was beginning to really master this extraordinary sport that in reality less than 40% of entrants actually go on to even completing.

"It is so hard to dig your car out of the sand!" She exclaims, "It's incredibly hot and you're wearing the fireproof overalls, when you were unlucky you would have to dig for an hour or more to get your car free. And that's where a lot of people get exhausted and why a lot of them give up. And there's also changing your own wheel during the race. Each one can weigh up to 55 kg. Everybody (yes men too) need to train hard in the gym for that!

"In the beginning when I first entered on a motorcycle, it was my goal to just get to the end of the race and not give up. And I was so happy with that to start with."

In 2001, with brilliant skill, tenacity and a dash of racing great fortune, She clinched a historic Dakar Rally win – making her the first and only woman ever to have achieved this feat.

When asked about her memories of that momentous win in 2001, Jutta says, "It was truly amazing you know because I'd been dreaming of this since I was a young woman. It was like being on top of a mountain!"

"Having gone from participating all alone with no support, to gradually gaining confidence and getting a bit of sponsorship, to the change to racing in cars to getting a podium and then to actually winning – it was a long journey, but it was worth it!"

It can't be sidelined that Jutta's win was not just an extraordinary achievement by anyone's standards, but it also marked a significant moment for women in this discipline.

Jutta: "Oh for sure it was super because I got a lot of response from both women and men after my win. It was like wow; the men can see we can drive, and the women can also see what's really possible for them too."




She continues, "My win was also great as it shone a big light on cross country motorsport for women and gave so much interest in this kind of racing. I love to see women participating in this and to have shown them what they can achieve."

So, what's her view on Extreme E's mandatory ruling that every team has to field a male and female driver in its championship?

Jutta said, "Oh for sure I can see it's very positive. It's good to see these women taking part and also some coming from different areas of motorsport. Men and women racing together in a team and against each other is how motorsport should be, to show the equality between them. It's also good for cross country racing and hopefully the ones that have not been in the Dakar before might try it as well, now they have raced in Extreme E and see what they can do! I can't see any disadvantages at all, it's great for everyone."

As Extreme E makes its way to Senegal for the Ocean X Prix in a few weeks' time, how does she feel regarding heading back to the place where it all started for her all those years ago?

She says, "I am really excited to be going back to Senegal. To be honest I have not had a chance to go back since 2007, when the last Dakar was held in this region and actually my last Dakar too, so it's going to be great to be back there and see how it's changed. It will feel in a way like coming home as it was a big moment for me winning there and changed many things for me. I still remember so clearly when I passed the finish line in 2001 especially - I am sure a lot of positive emotions will come up again."

"As far as how it will compare with the Desert X Prix in AlUla, I think Lac Rose will be more technical for the drivers but much less dusty than Saudi Arabia."

"The Senegalese people, much like the Saudis, are very passionate about motorsport which makes it another great place for Extreme E to be racing. In a sense the people in Senegal still feel a sense that they still 'own' the Dakar as it will always be called the Dakar even though it's not held in their country now – it's kind of still theirs and they have so much passion for this type of cross-country motor racing because of it."

Jutta continues, "I think everybody will love the Extreme E cars there too. To see these fantastic electric SUVs performing in such a way, so fast and so exciting to watch - the speed, the jumping, it will be amazing. I can't wait to get there and work with Timo (Scheider) and the teams and the drivers to make it another fantastic event!"

Extreme E's Ocean X Prix is scheduled to take place at Lac Rose, Dakar from 29-30 May.